Saints Are Not Sad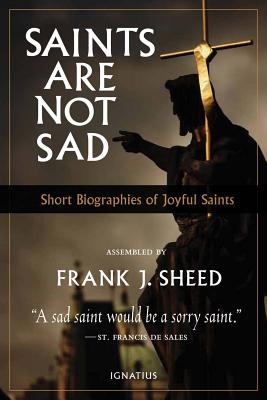 Saints Are Not Sad
Short Biographies of Joyful Saints
Ignatius Press, Paperback, 9781586175979, 442pp.
Publication Date: March 1, 2012
* Individual store prices may vary.
Buy at Local Store
Enter your zip code below to purchase from an indie close to you.
or
Buy Here
Description
The only tragedy is not to be a saint, wrote the French novelist Leon Bloy. And St. Francis de Sales said that A sad saint would be a sorry saint. But what is a saint? One way to answer is to analyze sanctity, theologically and psychologically. Another way, which is the path Frank Sheed chose in creating this volume, is to show you a saint--or rather, since no two saints are alike--to show you a number of saints. In this book, you are shown forty saints. The saints Sheed chose for this collection are from various time periods: six before A.D. 500, seventeen from then to the Reformation, and seventeen from the Reformation to the middle of the twentieth century. Many are well known, like St. Anthony, Francis, Augustine, Patrick and Bernadette, while others are lesser known, for example, Columcille and Malachy. The same can be said for the various authors of these short biographies. Among them are the famous like Hilaire Belloc, Alban Goodier and G.K. Chesterton, as well as priests and laymen whose names may no longer be familiar but whose writing still brings to life men and women whose closeness to God gave them purpose, strength, and yes, joy.
About the Author
Frank Sheed and his wife, Maise Ward, founded the well-known London publishing house Sheed and Ward in 1926. Together they published some of the finest Catholic literature of the first half of the twentieth century. Known for his sharp mind and clarity of expression, Sheed became a famous Catholic apologist, writing several books including "Theology and Sanity, A Map of Life, " and "To Know Christ Jesus".

F. J. Sheed was co-founder of the publishing house of Sheed & Ward.

Ann Carey is a veteran journalist who specializes in bioethics and Catholic women religious. Her work has been published widely in periodicals such as Our Sunday Visitor, National Catholic Register, Crisis, and Catholic World Report. She has received Catholic Press Association awards in news and feature writing as well as investigative reporting, and has taught writing and journalism at the college level. Ann and her husband live in South Bend, Indiana, where they enjoy the company of their children and grandchildren.