The Daily Show with Jon Stewart Presents America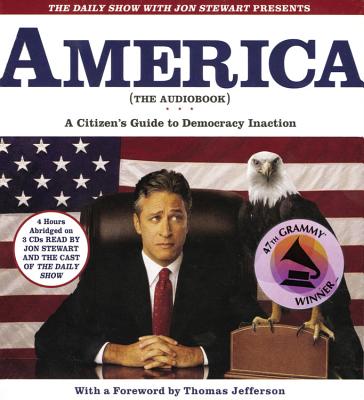 The Daily Show with Jon Stewart Presents America
A Citizen's Guide to Democracy Inaction
Time Warner AudioBooks, Compact Disc, Abridged, 9781586217013
Publication Date: September 20, 2004
* Individual store prices may vary.
Shop Local
Enter your zip code below to find indies closest to you.
Description
Jon Stewart, host of the Emmy and Peabody Award-winning "The Daily Show," and his coterie of patriots deliver a hilarious look at American government . . . Termed a "political king-maker" by Newsweek, and "the Dan Rather of infotainment" by Vanity Fair, Jon Stewart, along with the writers of "The Daily Show," combines his riotous wit and razor-sharp insight in this hilarious book.American-style democracy is the world's most beloved form of government, which explains why so many other nations are eager for us to impose it on them. But what is American democracy?In America (The Book), Jon Stewart and "The Daily Show" writing staff offer their insights into our unique system of government, dissecting its institutions, explaining its history and processes, and exploring the reasons why concepts like "One man, one vote," "Government by the people," and "Every vote counts" have become such popular urban myths.
About the Author
Jon Stewart has hosted his own critically acclaimed late-night talk show, starred in his own HBO special, " Unleavened, " and played himself on the cult hit "The Larry Sanders Show" Stewart lives in New York City.

Thomas Jefferson was born in Virginia in 1743 into a wealthy and socially prominent family. After attending the College of William and Mary, he went on to study law. At the age of twenty-six, Jefferson began building Monticello. Three years later, in 1772, he married Martha Wayles Skelton. The couple had six children, two of whom survived to adulthood. Considered elequent in his writing, although not as his speech, Jefferson took on much of the writing needed by the Virginia House of Burgesses and the Continental Congress, both of which he was a member. In 1776, at the young age of 33, Jefferson drafted the Declaration of Independence. From 1779 to 1781, Jefferson served as Governor of Virginia. Jefferson temporarily retired from public life after his term as governor, returning to public life in 1784 as a diplomat serving in France. In 1790, Jefferson was appointed Secretary of State in President Washington's Cabinet, but resigned in 1793 over a disagreement with Alexander Hamilton. As political disagreements continued to polarize the young government, Jefferson found himself leading those who sympathized with the revolutionary cause in France. In 1800, Jefferson was elected President in a tie vote that ironically was decided by Alexander Hamilton. In 1809, after two terms as President, Jefferson returned to his home in Monticello, where he developed, among other projects, plans for the University of Virginia. In addition, he sold his collection of books to the government to form the basis of the Library of Congress. Thomas Jefferson died on July 4, 1826.