A Criminal & an Irishman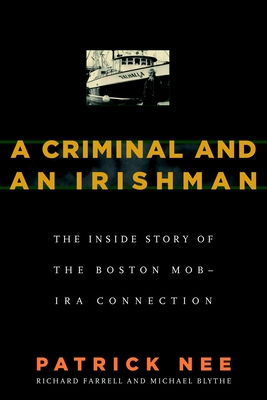 A Criminal & an Irishman
The Inside Story of the Boston Mob-IRA Connection
Steerforth Press, Paperback, 9781586421229, 215pp.
Publication Date: March 27, 2007
* Individual store prices may vary.
Buy at Local Store
Enter your zip code below to purchase from an indie close to you.
or
Buy Here
Description
Former rival and associate of James "Whitey" Bulger tells all. After returning from Vietnam where he served as a combat Marine, Pat Nee fought a gang war against Whitey Bulger. When members of Nee's Mullen gang killed the leader of Bulger's Killeen faction, Nee arranged for the dispute to be mediated by Howie Winter and Patriarca crime family captain Joseph Russo. The two gangs joined forces, with Winter as overall boss. When Winter was convicted of fixing horse races in 1979, Bulger became leader, and Nee responded by concentrating his energy on raising money and smuggling guns to the Provisional IRA. Disgusted by Bulger's brutality, and increasingly focused on the Irish cause, Nee distanced himself from his former ally. Ultimately it was revealed that, for years, Bulger had served as an FBI informant. 

A Criminal and an Irishman is the story of Pat Nee's life as an Irish immigrant and Southie son, a Marine, a convicted IRA gun smuggler, and a former violent rival and then associate of James "Whitey" Bulger. His narrative transports the reader into the criminal underworld, inside planning and preparation for an armored car heist, inside gang wars and revenge killings. Nee details his evolution from tough street kid to armed robber to dangerous potential killer, and discloses for the first time how he used his underworld connections and know-how as a secret, Boston-based operative for the Irish Republican Army. For years Pat smuggled weapons and money from the United States to Ireland – in the bottoms of coffins, behind false panels of vans – leading up to a transatlantic shipment of seven and a half tons of munitions aboard the fishing trawler Valhalla. No other Southie underworld figure can match Pat's reputation for resolve and authenticity.
About the Author
Patrick Nee knows New York City intimately. He has lived on East End Avenue overlooking the East River and West End Avenue overlooking the Hudson River. He has dined in the most famous New York Restaurants and the quiet, out-of-the way bistros. He brings the city to life for readers in this dynamic guide. Whether it is visiting New York's great museums, shopping in some of the world's most glamorous stores, or just walking and watching, Patrick has recorded the best and most exciting of all that New York City has to offer. From SoHo to Times Square, from Broadway to Radio City Music Hall, from the World Trade Center to the Empire State Building, from grand restaurants to the best inexpensive dining experiences, Patrick captures it all and delivers it to you so that your visit to New York City is your very best travel experience.
FRANCOISE TOURNIAIRE is Director of Technical Support at Sybase, Inc., a publisher of client/server and Internet software.
RICHARD FARRELL is Senior Manager of Technical Support at Sybase, Inc., a publisher of client/server and Internet software.
Praise For A Criminal & an Irishman…
"A profane, often brutal memoir . . . Nee maintained an uneasy alliance with [Whitey] Bulger while persuing his personal cause -- raising money and smuggling weapons for the Irish Republican Army." — The Boston Herald

"Nee commits some horrible crimes, from attempted murder to armed robbery. Yet even as he chases someone with a rifle through South Boston, he's the sort of guy you want to root for." — The Lawrence Eagle-Tribune