Hugo!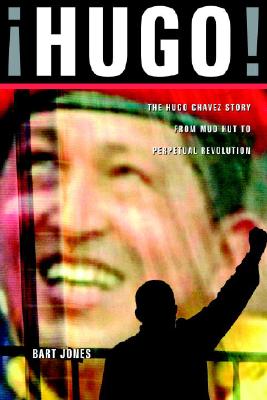 Hugo!
The Hugo Chavez Story from Mud Hut to Perpetual Revolution
Steerforth, Hardcover, 9781586421359, 568pp.
Publication Date: September 4, 2007
* Individual store prices may vary.
Not Currently Available for Direct Purchase
or
Shop Local
Enter your zip code below to purchase from an indie close to you.
Description
Bart Jones knows Venezuela intimately and was an eyewitness to President Hugo Chávez's rise to power. In Hugo! he tells the story of Chávez's impoverished childhood, his military career and the decade of clandestine political activity that ended in a failed attempt to seize power in 1992. He describes the election campaign against a former Miss Universe that finally won Chávez the Presidency and the dramatic reversals of fortune that have marked it: the struggle to reform the Venezuelan economy, the coup attempt of 2002 in which he was kidnapped and faced summary execution, and the oil industry strike that followed. The full stories of many of these episodes have never been told before – in English or Spanish. Hugo! is scrupulously researched and sourced, and as compelling to read as a good novel. The ruling elites and popular media in Venezuela and the United States oversimplify by casting Chávez as the heir to Fidel Castro, and more often than not, they have their facts wrong. The truth is more complex, and more interesting. The leader of one of the most powerful economies in Latin America is determined to try to use his country's wealth to help the poor majority. The Chávez that emerges from Jones' account is neither a plaster saint nor a revolutionary tyrant. He is a master politician — democratically elected to the presidency three times — an inspired improviser, a Bolivarian nationalist and an unashamed socialist. His policies have brought him into conflict with the IMF and the World Bank, the major oil companies and the Bush White House. By the time he arrived at the United Nations in September 2006 he had become a figure on the world stage. When he declared that 'the devil came here yesterday … the President of the United States', it was clear that, right or wrong, one man was taking on the might of most powerful nation on earth, in conscious imitation of the Liberator, Simon Bolivar.
About the Author
Bart Jones is currently a reporter for Newsday and worked for eight years in Venezuela, mainly a foreign correspondent for the Associated Press. A graduate of Fordham University, he holds a master's degree in Social Studies from Columbia University. He has also reported for The Atlantic City Press in New Jersey, where he won awards from the Philadelphia Press Association. He lives with his family on Long Island. Hugo! is his first book.
Praise For Hugo!…
Hugo! "is a book fully willing to do what American journalists mostly have avoided, which is to take Chavez seriously as a product both of local problems and of Latin American revolutionary traditions. . . . It is also the most comprehensive of the available books on Chavez." - Newsday

"... stands as the most authoritative and best-researched among the new crop of studies.... The compelling story of Chavez's rise ... is scrupulously gathered and expertly assembled by Jones. He offers insight into the passion for justice...Jones also excels in providing sufficient historical context to understand Chavez's ideological formation." — Marc Cooper for Truthdig.com

"To understand Venezuela today you have to understand Venezuela B.C. - Before Chavez. . . . It is that rancid economic and political landscape that forms the backdrop of Chavez's rise. And it is masterly charted . . . in Bart Jones' comprehensive new biography.
"Hugo-biographers too often resort to either stultifying hagiography or gratuitous demonization . . . Hugo! mark(s) an even-handed departure from that routine. . . . (Jones) displays an expert appreciation of the local milieu that formed Hugo's personality . . . One merit of Hugo! is that it cuts through the hysteria of the Chavez 'threat' to offer a . . . level-headed assessment. . . . Jones' well researched look at Chavez's vast social programs suggests a politician more motivated by common sense than communism." — Tim Padgett at Time.com

"Jones describes the story as 'straight out of Hollywood.' Indeed, I lost sleep two nights running because I just couldn't put the book down. I also was so engrossed in the two chapters about the 2002 coup that I got on the Washington, DC metro heading in the wrong direction and was in the suburbs before I became conscious of my surroundings. Despite the novel-like action pace of the book, it is meticulously researched with 55 pages of references and an extensive index. . . . Bart Jones is an ethical reporter who may come off as pro-Chavez because he is imposing objectivity in an area where the reporting has been so biased as to distort reality to the breaking point. Jones believes that both the opposition and the supporters of the Bolivarian "process," as supporters have come to call it, have legitimate points that deserve to be discussed. One of his goals was to make that possible by writing a book which upholds the best standards of unbiased reporting. In the process he writes a 'page-turner' that will captivate and educate the reader. This book belongs on the New York Times bestseller list and in the hands of every intellectually curious US adult who questions the right of the United States to rule the world." — Chuck Kaufman



"Chávez's rise has a made-for-Hollywood quality. . . . Jones provides a superb description of the economic inequities that helped create the conditions for a populist such as Chávez to come to power. . . . As Hugo! points out, mainstream press coverage is often hostile to the Venezuelan president. . . . Where Jones truly excels is in his observations of Venezuelan society and the outsized role oil has played in molding the national character." — Washington Post (cover review)


"Jones's book is thoughtful, comprehensive . . . the best in the bunch."
— The Boston Globe


"Without taking a political stance, Jones provides a nuanced account of the Venezuelan leader's life, creating a portrait that is, if not sympathetic, certainly more balanced than previous ones. Jones's precise and entertaining account moves smoothly through Chávez's beginnings up to his current position, making Venezuelan history accessible."
— Publishers Weekly

"This first major English language biography of Hugo Chavez is a masterful achievement that finally puts this crucial Latin American figure of the early 21st Century into context within Venezuela, within Latin America, as well as internationally. Bart Jones has gotten hold of great detail and anecdote, and portrays a colorful leader in times of crisis, rising from low military rank to the zenith of national power, as Venezuela and its people — and Chavez himself — begin to take charge of the country's terrific oil reserves and to flex national muscle on the world stage. An important work for our era —Chavez will in all likelihood cast a long and significant political shadow in the Western Hemisphere for the foreseeable future, and we need to understand this complicated figure as events unfold."
— Amy Wilentz