Jumbo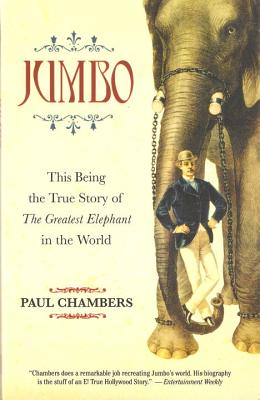 Jumbo
The Greatest Elephant in the World
Steerforth Press, Paperback, 9781586421502, 224pp.
Publication Date: February 3, 2009
* Individual store prices may vary.
Buy at Local Store
Enter your zip code below to purchase from an indie close to you.
or
Buy Here
Description
Jumbo was a superstar of the Victorian era. Every day tens of thousands of people would visit this adored animal known as "the Children's Pet" at the London Zoo. When P.T. Barnum purchased him for his Greatest Show on Earth, Jumbo's transport to the United States made headlines for weeks. In North America, Jumbo became an instant sensation, and his name entered our lexicon as an adjective for oversized things. A half century after his death his still-famous and unrivalled popularity was the inspiration for Walt Disney's Dumbo.
But the story behind the story is more gripping than one could possibly imagine. Jumbo's moving and surprisingly complex relationship with a junior zookeeper named Matthew Scott is told here for the first time using newly discovered archival material, including Scott's own diaries. Chambers' compelling account of Jumbo's secret history enhances an already magnificent legend.
About the Author
David Velasco Professional Biography Haircolor Specialist Master Stylist Salon Owner Educator Consultant Author With 40 years experience in the field of hairdressing, David Velasco has become one of the industry's leading authorities. Velasco began his career at the young age of 16 years old in Tampa Florida. He soon moved to London, England where he worked and studied his craft with world renowned hairdressers of that era. Upon returning to the United States, Velasco began to develop his skills as an Educator and Effective Communicator while working with John & Suzanne Chadwick at the Hair Fashion Development Center on New York's fashionable 5th Avenue. By the age of 21 years, Velasco was Styles Director for the SAKS Fifth Avenue Beauty Salon in New York City. Over the next 20 years, Velasco became immersed in almost every possible aspect of hair-related activities. He has held such prestige positions as Educational and Creative Consultant to Clairol, Inc., Shiseido, LTD. and The Wella Corp. Velasco held a position as the National Artistic Director for the Wella, Corp. for ten years. Velasco was formerly the Director of Haircolor for the world renowned Bumble & Bumble Salon in New York City. These activities lead to achievements, such as serving as a Freelance Hair Designer for photo sessions with major beauty publications and television commercials. He has performed as the Featured Guest Artist and Master Educator at hundreds of trade events throughout the world. His presentation at the 1993 HAIRCOLOR U.S.A. Symposium was rated BEST EDUCATIONAL EVENT by his peers. Velasco has been a Contributing Author to many hair related articles for both consumer and professional publications and books. He is a member of the INTERNATIONAL HAIRCOLOR EXCHANGE. Presently Velasco oversees his own salon, David Velasco Salon, LTD. in Doylestown, Pennsylvania which he has owned for the past 20 years. David and his Salon are proud members of Intercoiffure Mondial, which is the most prestigious international hairdressing organization in the world. As an industry leader, David is also owner of "Salon Success Systems Publications" through which he has Authored and Self-Published a series of 8 books in the art of haircolor, Trade Secrets of a Haircolor Expert, as well as produced a series of DVD's and a social networking website, "The Haircolor Clubhouse" where he provides free haircolor education to professional hairdressers around the world.
Praise For Jumbo…
"'Under the Radar' Top Ten — One of the best books of 2008 you might have missed." — Kirkus Reviews
"This gentle, well-wrought book takes readers to thrilling places." – The Washington Times
"In what could perhaps be called a tell-all biography, Paul Chambers explores the sad but remarkable life of the most famous circus elephant ever in his fascinating, carefully researched account. " – The Christian Science Monitor
"Highly recommended." – Library Journal (starred review)