The Shooting Salvationist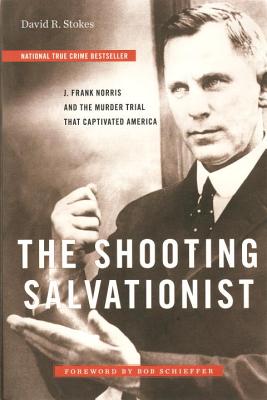 The Shooting Salvationist
J. Frank Norris and the Murder Trial That Captivated America
Steerforth Press, Paperback, 9781586422004, 350pp.
Publication Date: November 6, 2012
* Individual store prices may vary.
Buy at Local Store
Enter your zip code below to purchase from an indie close to you.
or
Not Currently Available for Direct Purchase
Description
The Reverend Doctor J. Frank Norris was many things in the 1920's: a pastor who led the nation's first megachurch, a provocative publisher, and a pioneer broadcaster. With the flair of a great showman, he railed against vice and conspiracies he saw everywhere to a congregation of more than 10,000 at First Baptist Church in Fort Worth, Texas. His church served as a venue for a steady stream of politicians and performers, from William Howard Taft to Will Rogers, but Norris himself was by far the biggest attraction. Following the death of William Jennings Bryan, he was poised to become the leading fundamentalist figure in America. This changed, though, in a moment of violence one sweltering Saturday in July when he shot and killed an unarmed man in his church office.
Saturated with vivid detail, The Shooting Salvationist skillfully explores the events leading up to one of the most intriguing -- yet largely forgotten -- crime stories in America's history. Set against the backdrop of the post-World War I oil boom, when oilmen lit cigars with $1,000 bills in hotel lobbies, and while Prohibition was the law of the land, it leads to a courtroom drama pitting some of the most powerful lawyers of the era against each other with the life of a wildly popular, and equally loathed, religious leader hanging in the balance.
-For all the colorful characters who became part of Fort Worth's history, surely none surpassed J. Frank Norris, the fiery fundamentalist preacher at Fort Worth's First Baptist Church in pure outlandishness. . . . In this book David Stokes tell the J. Frank Norris story. If I hadn't grown up in Fort Worth, I would have thought someone made all this up but no one did. It really happened.- --from the Foreword by Bob Schieffer.
About the Author
David R. Stokes is a minister, author, broadcaster, and columnist. He and his wife Karen have three married daughters and seven grandchildren. They divide their time between homes in Northern Virginia and Florida's Treasure Coast. About the Foreword Author: Bob Schieffer grew up in Fort Worth and is the Chief Washington Correspondent for CBS News. He believes Fort Worth is the best place in the whole world.
Praise For The Shooting Salvationist…
A National True Crime Bestseller

"At a moment ripe for a new kind of media-savvy preacher, in a place where parsons wielded guns as confidently as they toted their Bibles, radio minister and mega-church pastor J. Frank Norris emerged as the archetype of his day. In his riveting tale of Norris's 1927 trial for murder, David Stokes explains just how it is that this "Texas Tornado" became such a star…and lightening rod for controversy. Through rich and compelling narrative, a sharp eye for the quirky as well as the profound, rigorous research, and a commanding sense of the big picture, Stokes offers his reader a rare, exhilarating look at this notorious individual. In the process, he opens up fresh ways of understanding the local culture that vaulted Norris and his Texas-style fundamentalism onto a national stage."  - Darren Dochuk, author of From Bible Belt to Sunbelt: Plain-folk Religion, Grassroots Politics, and the Rise of Evangelical Conservatism

"This excellent book chronicles [a] court case that captivated the nation  - even if it's barely remembered today  - and makes its central player, Norris, as compelling and multilayered as any character from fiction. . . . The book is engagingly written, in an immediate, you-are-there style, and the story is as compelling and surprising as any Grisham thriller. Top of the line." - Booklist (starred review)

"Readers will enjoy this oversize tale—a snapshot of a fascinating time in American and Texas history—that reads like fiction. It will appeal to those interested in true crime, the history of fundamentalism, and the early days of Texas" – Library Journal

J. Frank Norris was the pastor of a "mega-church" before the name itself existed. He was famous, and to many he was a righteous and inspiring hero.  By others, however, he was thoroughly hated. His endless crusades frustrated both businessman and politicians in Fort Worth, TX.  Norris was also a publicity hound who was brash and abrasive.  His enemies knew that he was a formidable foe.  On July 17, 1926, Norris shot and killed an unarmed man in the church office.  David Stokes's The Shooting Salvationist offers the complete story of  the shooting, the criminal trial, and their aftermath  Eighty-five years ago, this event captured the attention of the entire nation.  Modern readers will likewise be enthralled by David Stokes's skillful presentation of this shocking crime.  The story is simply incredible, yet every word is true.  And you won't put this book down until reach the end!  -- Chris Rose, Andover Bookstore


"For all the colorful characters who became part of Fort Worth's history, surely none surpassed J. Frank Norris, the fiery fundamentalist preacher at Fort Worth's First Baptist Church in pure outlandishness. His oratory and penchant for publicity brought thousands into his congregation and at one point, First Baptist was among the largest churches in the world, a mega church before the phrase was coined. Unfortunately, for all his oratorical skills, Norris' horizons were limited by several criminal indictments brought on by his tendency for violence.
In this book David Stokes tells the J. Frank Norris story.
If I hadn't grown up in Fort Worth, I would have thought someone made all this up but no one did.
It really happened." - from the foreword by Bob Schieffer (CBS News)
"Everyone loves a good story, and David Stokes has unearthed one from history's archives and served it up with style and verve."  - David Pietruzsa, author of 1920: The Year of Six Presidents

"David Stokes has written a book that both entertaining and informative." - Jim Pinkerton, Newsday Columnist and FOX News Contributor

"David Stokes combines his meticulous research with a writing style which makes you feel as though you are that fly-on-the-wall witnessing history as it unfolds." - Bob Hamer, Author of Enemies Among Us

"Thank you for sharing this fascinating story!" - Former President George W. Bush

"Reads like a page-turning novel, but is built and based on fact and not fiction. I became more and more enthralled with each passing page."  - O. S. Hawkins, Southern Baptist Convention

"Like J. Frank Norris himself, this book moves briskly from one controversy to another. A fascinating read about a fascinating man." - Barry Hankins, Professor of History, Baylor University and author of Jesus and Gin—Evangelicalism, The Roaring Twenties, and Today's Culture Wars