The King of California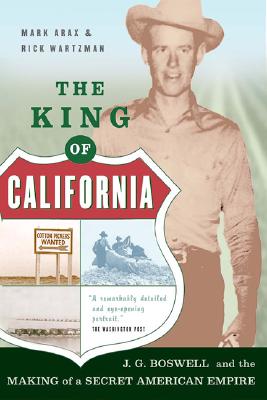 The King of California
J.G. Boswell and the Making of a Secret American Empire
PublicAffairs, Paperback, 9781586482817, 592pp.
Publication Date: February 16, 2005
* Individual store prices may vary.
Buy at Local Store
Enter your zip code below to purchase from an indie close to you.
or
Buy Here
Description
J.G. Boswell was the biggest farmer in America. He built a secret empire while thumbing his nose at nature, politicians, labor unions and every journalist who ever tried to lift the veil on the ultimate "factory in the fields." "The King of California" is the previously untold account of how a Georgia slave-owning family migrated to California in the early 1920s, drained one of America 's biggest lakes in an act of incredible hubris and carved out the richest cotton empire in the world. Indeed, the sophistication of Boswell 's agricultural operation -from lab to field to gin - is unrivaled anywhere.
Much more than a business story, this is a sweeping social history that details the saga of cotton growers who were chased from the South by the boll weevil and brought their black farmhands to California. It is a gripping read with cameos by a cast of famous characters, from Cecil B. DeMille to Cesar Chavez.
About the Author
Mark Arax is an award-winning reporter for the "Los Angeles Times," and Rick Wartzman is the paper's business editor. Arax is the author of the critically acclaimed "In My Father's Name," about his search to find his father 's killers. He lives in Fresno. Wartzman was previously with "The Wall Street Journal," where for fifteen years he served in a variety of posts, including White House correspondent and founding editor of the paper's weekly California edition. He lives in Los Angeles.
Rick Wartzman is executive director of the Drucker Institute at Claremont Graduate University and a columnist for Forbes online. He is the author of, among other titles, "What Would Drucker Do Now?"
Anne Fishbein is an acclaimed photographer whose work is held by the Art Institute of Chicago, Museum of Modern Art in New York, and other major institutions.
Bridget Lawlor is the archivist at the Drucker Institute.