K Blows Top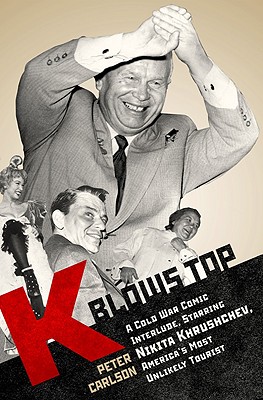 K Blows Top
A Cold War Comic Interlude Starring Nikita Khrushchev, America's Most Unlikely Tourist
PublicAffairs, Hardcover, 9781586484972, 352pp.
Publication Date: June 1, 2009
* Individual store prices may vary.
Buy at Local Store
Enter your zip code below to purchase from an indie close to you.
or
Not Currently Available for Direct Purchase
Description
This hilarious account of Khrushchev's 1959 U.S. tour is also a supremely entertaining evocation of the history and atmosphere of Cold War America
About the Author
Peter Carlson is a former feature writer and columnist for The Washington Post, where he wrote the weekly column "The Magazine Reader." The author of Roughneck: The Life and Times of Big Bill Haywood, and a co-author--with Hunter S. Thompson and George Plimpton, among others--of The Gospel According to ESPN, he lives in Rockville, MD.
Praise For K Blows Top…
Douglas Brinkley, Professor of History and Baker Institute Fellow at Rice University
"What a joy it was to read Peter Carlson's K Blows Top. With vivid detail, crisp language, subtle wit, and admirable new research, Carlson recounts Khrushchev's notorious bungling around America in 1959. A truly fine piece of writing and Cold War scholarship."
Christopher Buckley, author of Thank You for Smoking and Supreme Courtship
"Peter Carlson's K Blows Top is an utterly hilarious and un-putdown-able story about one of the strangest episodes of the Cold War -- Khrushchev's 1959 visit to the U.S. Someone absolutely has to make this into a movie. I insist!"
The Daily Beast, from Christopher Buckley, author of Thank you for Smoking and Little Green Men
"I can't remember when I've had more fun with a book…simply hilarious."
Steve Coll, author of Ghost Wars and The Bin Ladens.
"Any work of history whose chapter titles include "It Killed Milton Berle and It Can Kill You Too" and "Chihuahuas For Khrushchev" deserves to be read. Like the mid-century journalists who chronicled this Strangelovian chapter of the Cold War, Peter Carlson writes with wit, energy, clarity, and delightful skepticism. This book seems to have been a joy to write; it is certainly a joy to read."
Library Journal, 3/1: STARRED review
"For anyone interested in this remarkable moment in the long history of U.S.-Soviet relations, Carlson's book is a treat!"
Daniel Schorr, Senior News Analyst, National Public Radio
"This book recreates in vivid detail one of the most astonishing figures in our recent history. The Communist leader's storming of America can be enjoyed by everyone, but especially those with memories of that singular episode in the winding down of the Cold War."
Booklist, starred review 4/15
"The book is consistently informative and funny, but there are episodes that are strangely surreal… a fine example of popular history at its most engaging—anecdotal but informative and written with great feeling for the comedic side of current events."
Kirkus, 4/15
"A high-spirited, often hilarious account of a forgotten moment in Cold War history. A fast-paced work of political history, peppered with references to Shirley MacLaine's knickers, Iowa corn, Dwight Eisenhower's frown, Nina Khrushchev's sidelong glances at Frank Sinatra and all the other makings of mutually assured destruction."
Publishers Weekly, 3/31
"Hilarious…In Carlson's hands the cold war is a surprisingly laughing matter."
The Onion A.V. Club
"Carlson delivers his bizarre travelogue in the most deadpan manner possible, as if to counteract the largely hysterical news reports at the time, which tracked K's every move with the ardor of paparazzi chasing a bare-headed Britney."
The Boston Globe
"The linked sketches of Khrushy's boozy, mercurial meanderings through New York, Hollywood, and the Iowa State Fair are jaw-dropping in an era of stage-managed diplomacy. Well beyond travelogue, the book is also a portrait of a more naive, optimistic nation in the heat of the nuclear age."
PARADE
"In K Blows Top, Peter Carlson delivers a laugh-out-loud history lesson about one of the most dangerous periods of the 20th century."
Washington Post
"Carlson seems to have sought and discovered every piece of arcana associated with the Soviet leader's American sojourn. A deft and amusing writer, Carlson does a marvelous job of recounting it."
Washington Post's Express
Peter Carlson's K Blows Top: A Cold War Comic Interlude, Starring Nikita Khrushchev, America's Most Unlikely Tourist may be the most entertaining historical account you'll ever read."
Boston Phoenix
"Fast-paced, delightfully sardonic, and thoroughly enjoyable... It's a revealing portrait of a treacherous decade when the media—especially nascent television, whose news departments seldom questioned the views of the government that controlled their broadcast licenses—were almost as innocent as they were influential."
BookPage
"Carlson's account is extremely well researched and includes interviews with a number of participants, most notably Khrushchev's son, Sergei. Many of the accounts and memos he quotes are from State Department historical documents. His book is enlivened by many direct quotes from Khrushchev and others. Anyone interested in cultural exchange, international diplomacy and fine writing should enjoy this unique book."
Financial Times
"K Blows Top by Peter Carlson is a hilarious, accomplished account of this epic journey of 'a stranger in a strange land' as he puts it, one of the most important and, inadvertently, one of the funniest state visits of all time."

London Review of Books
"K Blows Top, a non-fiction account of Khrushchev's trip to America in 1959, could be the most entertaining book of the year, but it is also, in its blood, a novel, a novel-in-secret, with index and pictures and History as a character."