Food Inc.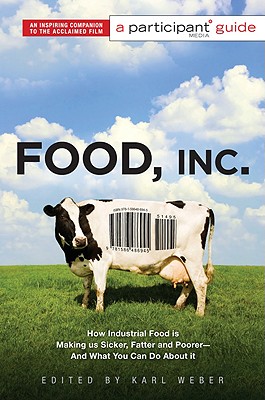 Food Inc.
How Industrial Food Is Making Us Sicker, Fatter, and Poorer - And What You Can Do about It; A Participant Guide
PublicAffairs, Paperback, 9781586486945, 321pp.
Publication Date: May 5, 2009
* Individual store prices may vary.
Buy at Local Store
Enter your zip code below to purchase from an indie close to you.
or
Buy Here
Description
"Food, Inc." is guaranteed to shake up our perceptions of what we eat. This powerful documentary deconstructing the corporate food industry in America was hailed by "Entertainment Weekly" as more than a terrific movieit's an important movie. Aided by expert commentators such as Michael Pollan and Eric Schlosser, the film poses questions such as: Where has my food come from, and who has processed it? What are the giant agribusinesses and what stake do they have in maintaining the status quo of food production and consumption? How can I feed my family healthy foods affordably?
Expanding on the film's themes, the book "Food, Inc." will answer those questions through a series of challenging essays by leading experts and thinkers. This book will encourage those inspired by the film to learn more about the issues, and act to change the world.
About the Author
KARL WEBER writes about business and current affairs.
Praise For Food Inc.…
David Denby, New Yorker
"Those of us who avoid junk food, with many sighs of relief and self-approval, may still be eating junk a good deal of the time. This enraging fact, which will not surprise anyone who has read such muckraking books as Eric Schlosser's "Fast Food Nation" (2001) and Michael Pollan's "The Omnivore's Dilemma" (2006), is one of the discomforting meanings of the powerful new documentary "Food, Inc.," an angry blast of disgust aimed at the American food industry."

The American Conservative
"If you care about what you're eating, you should see the new documentary Food Inc."

Takepart.com
"Most of you have probably heard about Food, Inc., the movie, but did you also know there's a companion book to the film? The book explores the challenges raised by the movie in fascinating depth through 13 essays, most of them written especially for this book, and many by experts featured in the film. Highlights include chapters by Michael Pollan (Omnivore's Dilemma and In Defense of Food), Anna Lappe (Hope's Edge and Grub), Eric Schlosser (Fast Food Nation and film co-producer), Robert Kenner (film director), and a chapter on asking the right questions from Sustainable Table! The book is so popular it's already in its fourth printing."