The Archaeology of Home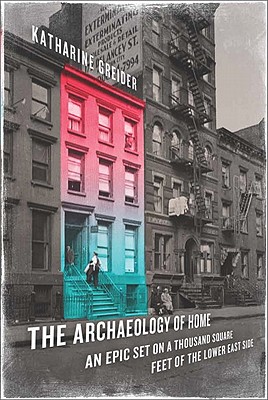 The Archaeology of Home
An Epic Set on a Thousand Square Feet of the Lower East Side
PublicAffairs, Hardcover, 9781586487126, 329pp.
Publication Date: March 22, 2011
* Individual store prices may vary.
Buy at Local Store
Enter your zip code below to purchase from an indie close to you.
or
Not Currently Available for Direct Purchase
Description
When Katharine Greider was told to leave her house or risk it falling down on top of her and her family, it spurred an investigation that began with contractors' diagnoses and lawsuits, then veered into archaeology and urban history, before settling into the saltwater grasses of the marsh that fatefully once sat beneath the site of Number 239 East 7th Street.
During the journey, Greider examines how people balance the need for permanence with the urge to migrate, and how the home is the resting place for ancestral ghosts. The land on which Number 239 was built has a history as long as America's own. It provisioned the earliest European settlers who needed fodder for their cattle; it became a spoil of war handed from the king's servant to the revolutionary victor; it was at the heart of nineteenth-century Kleinedeutschland and of the revolutionary Jewish Lower East Side. America's immigrant waves have all passed through 7th Street. In one small house is written the history of a young country and the much longer story of humankind and the places they came to call home.
About the Author
Katharine Greider has worked as a newspaper reporter and freelance magazine writer. Her articles, often focusing on health and medical topics, have appeared in a dozen publications from "Self" to "Mother Jones," She lives in New York City with her family.
Praise For The Archaeology of Home…
Library Journal, December 15, 2010
"An extraordinary narrative that brings together a chronology of events, a provenance of the once-tenement building, and even a personal memoir. In addition, she has compiled a fascinating chronicle of the previous residents, mostly newly arrived immigrants looking for a 'better life in America.' Her sleuthing of public records shows how the building had evolved over the 150 years of its existence, even determining what caused its ultimate doom. Well written and thoroughly researched, this sobering tale should resonate with many readers of our time who have also lost their homes, leaving them asking, 'How could this happen to me?'"
Booklist, March 15, 2011

"The 'improbable memoir and epic history' of one New York address, 239 East 7th Street, describing its series of inhabitants, all craving the security, boundary, and history that is home. With control and confidence, Greider tells her personal narrative while excavating an enormous cast of characters and their connections to and journey through one building in the Lower East Side that comes to represent Manhattan's evolution….  An astonishing, complex, yet easy-to-digest tale. Greider succeeds brilliantly in magnifying 239—its tenants, structure, and surroundings—so thoroughly that we feel its grit, then zooming out to reveal 'multitudes dancing on the head of a pin'—the macrocosm that is home, city, humanity."
NPR.org, March 22, 2011 "Greider is a gifted and poetic stylist…. She is at her best, however, when she veers away from her research and off onto eloquent tangents about the very nature of 'home.'"