Molly Ivins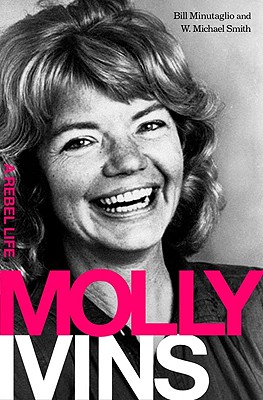 Molly Ivins
A Rebel Life
PublicAffairs, Hardcover, 9781586487171, 360pp.
Publication Date: November 10, 2009
* Individual store prices may vary.
Buy at Local Store
Enter your zip code below to purchase from an indie close to you.
or
Not Currently Available for Direct Purchase
Description
A revelatory biography of the irreverent political commentator and bestselling author whose public persona masked a complicated and compelling personal history
About the Author
Bill Minutaglio is a professor of journalism at the University of Texas and author of several critically acclaimed books, including the first unauthorized biography of George W. Bush, First Son: George W. Bush & The Bush Family Dynasty.W. Michael Smith was a researcher for Molly Ivins for eight years. He also worked for Gail Sheehy and several other authors, including staffers at The New York Times.
Praise For Molly Ivins…
Douglas Brinkley
"God I miss Molly Ivins! The Texas kicker spoke truth to power like nobody's business. Bill Minutaglio and W. Michael Smith have elegantly bottled up her enduring charm in this winner of a book. A real page-turning hoot."

Sir Harold Evans
"I was lucky enough to be the publisher of Molly Ivins' iconoclastic, outrageously funny, laceratingly pointed political and social commentaries that made most male contemporaries—hello sweet pea—seem like shrinking violets, and I never knew the half of what made her tick so gloriously. The deeply researched biography by Bill Minutaglio and W. Michael Smith, written with affection but unflinching candor, reveals a brave, resilient woman with a personality bigger than Texas whom hundreds of thousands of her readers, like me, will wish they'd known better."

Library Journal
"Fans of Ivins's work and readers interested in feminist history, contemporary politics, and media studies will like this first full-length biography of Ivins."

Newsweek
"Filled with first-rate analysis, leavened by plenty of local color."

Dallas Morning News
"Entertaining, readable.... Molly Ivins: A Rebel Life is a sobering account of the toll of addiction and cancer, but it's also full of wonderful stories about a complex, brilliant woman who will be remembered for her trademark wit and down-home wisdom 

Minneapolis Star-Tribune
"An inside look at the world of journalism while describing in moving detail Ivins' struggle with cancer."

San Antonio News-Express
"For those who miss the wit and whip of Molly Ivins, the new biography of her life will make you laugh, cry, shudder and think." 

Cleveland Plain Dealer
"This biography will be enjoyed…. It will help a new crop of readers discover an American original."

Austin American-Statesman
"Poignant… personal, empathetic."

Megan Garber, Columbia Journalism Review
"Meticulous…. A Rebel Life could easily have reduced Ivins's life to a kind of ongoing dialectic: public persona versus private person, expectations versus here's where you can put your expectations. It could have also devolved into a simple study of the journalist's body of work. But thankfully, the authors resist reductive aesthetics in favor of something both more challenging and more rewarding: empathy. They provide a portrait of their subject that is loving in the most literal sense. They treat her simply as a person, with the attendant freight of ego and insecurity, strength and frailty… the biography is like its subject: unrelentingly honest, unapologetically filtered."

Columbia Journalism Review
"Meticulous…. A Rebel Life could easily have reduced Ivins's life to a kind of ongoing dialectic: public persona versus private person, expectations versus here's where you can put your expectations. It could have also devolved into a simple study of the journalist's body of work. But thankfully, the authors resist reductive aesthetics in favor of something both more challenging and more rewarding: empathy. They provide a portrait of their subject that is loving in the most literal sense. They treat her simply as a person, with the attendant freight of ego and insecurity, strength and frailty… the biography is like its subject: unrelentingly honest, unapologetically filtered"

Lloyd Grove,New York Times Book Review
"Minutaglio, the author of a well-received Bush biography, First Son, and Smith, who spent six years working for Ivins as a researcher and gofer, draw on voluminous private papers and interviews to produce a painfully intimate portrait . . . chockablock with colorful anecdotes and psychological insights"

Norman J. Glickman, Philadelphia Inquirer
"[Minutaglio & Smith] have vividly captured Ivins' life—the bright and funny sides as well as the sad and dark…. People who read her columns or heard her on TV or NPR will find this a fascinating read. Those who didn't know her work will be driven to her books…. [The authors] have painted a broad and deep picture of this national treasure. They have captured her public and private essences perfectly."