Power Hungry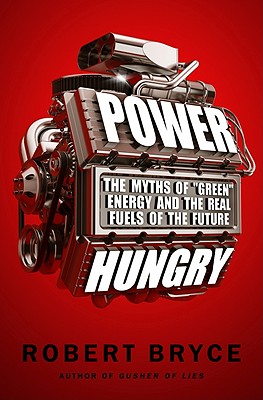 Power Hungry
The Myths of "Green" Energy and the Real Fuels of the Future
PublicAffairs, Hardcover, 9781586487898, 416pp.
Publication Date: April 6, 2010
* Individual store prices may vary.
Buy at Local Store
Enter your zip code below to purchase from an indie close to you.
or
Not Currently Available for Direct Purchase
Description
Another smartly contrarian assessment of America's energy situation—and the gulf between the goals of the green movement and our vast need for power—by the author of Gusher of Lies
About the Author
Robert Bryce has been producing industrial-strength journalism for two decades. His articles on energy and other subjects have appeared in dozens of publications ranging from the Wall Street Journal to Counterpunch and Atlantic Monthly to Oklahoma Stripper. He is the author most recently of Gusher of Lies: The Dangerous Delusions of "Energy Independence." Bryce is also the managing editor of Energy Tribune. He lives in Austin.
Praise For Power Hungry…
Kirkus
"Capably argued… advocates of renewable energy should familiarize themselves with the book, since oil, gas and coal lobbyists surely will."

Philadelphia Inquirer
"Bryce is especially good at explaining why fossil fuels have become entrenched as our main energy sources." 

Library Journal
"Bryce uses copious facts and research to make a compelling case that renewable sources have their place in our energy future but they aren't the viable panacea we're led to believe."

Ft. Worth Star-Telegram, April 23, 2010
"Any new Robert Bryce book, in my opinion, had one tough hurdle to clear: I'd found Bryce's first book, Gusher of Lies, impossible to put down."

American Spectator, April 26, 2010
"Endlessly fascinating reading."

Wall Street Journal, April 27, 2010
"A brutal brilliant exploration… If Power Hungry sounds like a supercharged polemic, its shocks are delivered with forensic skill and narrative aplomb…. It is unsentimental, unsparing and impassioned; and, if you'll excuse the pun, it is precisely the kind of journalism we need to hold truth to power."

Washington Times, May 31, 2010
"[Bryce's] magnificently unfashionable, superlatively researched new book dares to fly in the face of all current conventional wisdom and cant…. I have never yet found any book or author who does a more thorough, unanswerable job of demolishing universally held environmental myths than Mr. Bryce does…. Mr. Obama is reputed to be an omnivorous reader of serious intellectual volumes. He should drop everything else and put Robert Bryce's invaluable book at the top of his list. So should every senator and Congress member and every self-important, scientifically illiterate pundit in America, right and left alike. They will all learn a lot." National Review, August 2, 2010"Should be mandatory reading for U.S. policymakers."