Stealing the Mystic Lamb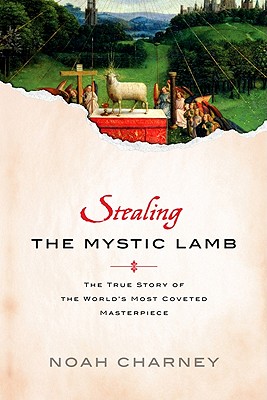 Stealing the Mystic Lamb
The True Story of the World's Most Coveted Masterpiece
PublicAffairs, Hardcover, 9781586488000, 336pp.
Publication Date: October 5, 2010
* Individual store prices may vary.
Buy at Local Store
Enter your zip code below to purchase from an indie close to you.
or
Not Currently Available for Direct Purchase
Description
The gripping, six-century history of the world's most frequently stolen masterpiece
About the Author
Noah Charney is the author of the international bestselling novel "The Art Thief" and the founding director of The Association for Research into Crimes against Art, an international non-profit think tank. His work in the field of art crime has been praised in such forums as "The New York Times Magazine," "Time Magazine," "Vanity Fair," "Vogue," BBC Radio, and NPR. Currently professor of art history at the American University of Rome, he lives in Italy with his wife.
Praise For Stealing the Mystic Lamb…
Kirkus, July 15, 2010
"Charney unsnarls the tangled history of Jan van Eyck's 15th-century The Ghent Altarpiece (aka The Mystic Lamb), 'the most desired and victimized object of all time.' With a novelist's sense of structure and tension, the author adds an easy familiarity with the techniques of oil painting and with the intertwining vines of art and political and religious history…. A brisk tale of true-life heroism, villainy, artistry and passion."
Christian Science Monitor, August 30, 2010
"[A]ction-packed…. In scrupulous detail, Charney divulges the secrets of the revered painting's past, and in doing so, gives readers a history lesson on art crime, a still-prospering black market." 
Cleveland Plain Dealer, October 14, 2010
"Well-written and thorough, this book reminds us of the influence and fragility of art, our veniality and heroism, and the delights found in both the beautiful and the strange." 
Maclean's, October 14, 2010
"In Charney's hand, the story of the various heists often reads like a political thriller." 
Catholic Herald, December 13, 2010
"Charney's wonderfully learned and entertaining book tells us about all the indignities this famous image has endured through the centuries… but the book also has some much broader point to make about the cultural significance of important paintings… Charney tackles some important subjects (the creation of the modern art-stealing industry, our sensible obsession with almost burglar-proof museums) but he wears his learning lightly and the next extraordinary tale is only ever a few pages away. Best of a very good bunch must be the account of the Monuments Men: the highly qualified people who followed in the wake of the liberating armies at the end of World War Two… It is good to hear their story and all the other bizarre tales this innovative and elegant book has to tell."