The Case for Books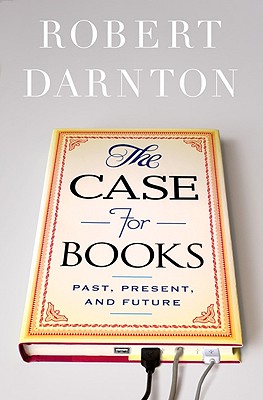 The Case for Books
Past, Present, and Future
PublicAffairs, Hardcover, 9781586488260, 240pp.
Publication Date: October 1, 2009
* Individual store prices may vary.
Buy at Local Store
Enter your zip code below to purchase from an indie close to you.
or
Not Currently Available for Direct Purchase
Description
 A renowned historian and pioneering scholar in the history of the book—a lead voice in the debate about the digital future of books and knowledge—distills his experience and insight in The Case for Books
About the Author
A former professor of European History at Princeton University, Robert Darnton is Carl H. Pforzheimer University Professor and director of the Harvard University Library. The founder of the Gutenberg-e program, he is the author of many books. He lives in Cambridge, Massachusetts.
Praise For The Case for Books…
Booklist
"Historian and library director Darnton has written expansively and lucidly on the history of books and libraries. This collection of his influential essays from the past decade neatly encapsulates one significant part of his immense legacy and contribution to intellectual history. …Every one of Darnton's essays reflects both his erudition and his good humor"

BookPage
"The stimulating and thought-provoking essays in The Case for Books: Past, Present, and Future provide us with an excellent overview of where we have been and where we are likely to be headed."

Shelf Awareness
"In this collection of well-informed essays, Robert Darnton, historian and director of the Harvard University Library, offers a decidedly open-minded perspective on some of the technological changes affecting the world of books and leads an insightful and learned discussion of topics that will appeal to more traditional bibliophiles."

The New Republic
"Darnton's volume is an informed and realistic guide to life in the first age of digital media. It argues convincingly that digitalization will create—is already creating—a new kind of enlightenment, if not a new Enlightenment…It seems entirely possible that Darnton will show scholars how we can make the digital world our servant, instead of accepting it as our master, and use it not to undermine but to complement the old powers of narrative and argument."

Bookpage
"Darnton knows this territory as well as anyone and views the subject from a unique perspective…Darnton's thoughtful and incisive essays on this important topic should be of interest to a wide range of book lovers."

The Scotsman
"Darnton's book ticks all the boxes. It looks nice. It smells nice. Its content is intelligent and forms a valuable primer to an increasingly important debate."

Times Higher Education Supplement
"(an) important and highly readable book."

Bookpage
"Darnton knows this territory as well as anyone and views the subject from a unique perspective…Darnton's thoughtful and incisive essays on this important topic should be of interest to a wide range of book lovers."

School Library Journal
"The Case for Books breaks through the babble about books and offers concerned and curious librarians an intelligent and balanced response to the anti-Google claque while assuring readers that, to paraphrase Mark Twain, the reports of the death of the book are greatly exaggerated."

The Nation
"A worthy guide to the tremors created by the Kindle and electronic reading"