The Partisan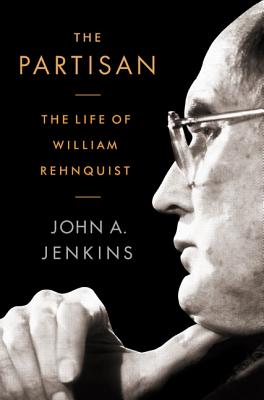 The Partisan
The Life of William Rehnquist
PublicAffairs, Hardcover, 9781586488871, 330pp.
Publication Date: October 2, 2012
* Individual store prices may vary.
Buy at Local Store
Enter your zip code below to purchase from an indie close to you.
or
Buy Here
Description
The first full biography of William Rehnquist— the iconoclastic, influential chief justice who shaped the current court and moved it decisively to the right
About the Author
John A. Jenkins is president and publisher of "CQ Press." His work has appeared in the "New York Times Magazine," "GQ," the "Washington Monthly," and the "American Lawyer." He is a four-time recipient of the American Bar Association's Gavel Award Certificate of Merit, the highest award in legal journalism.
Praise For The Partisan…
John W. Dean, author of The Rehnquist Choice and Nixon White House Counsel
"'Partisan' is the perfect title to describe the conservative ideologue who became the 16th Chief Justice of the United States.  And John Jenkins proves himself a perfect biographer in writing the first full non-legalistic look at this reclusive and enigmatic personality who pushed the nation's High Court to the political right. This is an important, engaging and informative read."

Charles Lewis, Executive Editor, Investigative Reporting Workshop at American University
"THE PARTISAN is a terrific, timely and important book, meticulously researched and enthralling to read. How exactly did a segregationist and mere Assistant Attorney General become a Supreme Court Justice, let alone Chief Justice? John Jenkins' investigative biography is an inspired and authoritative work and a great public service."

Kirkus
"A much-awarded legal journalist serves up an investigative biography of the controversial, late chief justice."
Wall Street Journal's Law Blog
"Though it may not be cheered by Rehnquist fans, 'The Partisan: The Life of William Rehnquist' (PublicAffairs) is no quick hit job. Mr. Jenkins and his research assistants pored through Rehnquist archives and the papers of other justices to illuminate some little-known corners of Chief Justice Rehnquist's life."
Thomson Reuters
"Jenkins's 'The Partisan: The Life of William Rehnquist' breaks new ground by unearthing the roots of Rehnquist's judicial dogma…Jenkins is a scalding critic of both Rehnquist's constitutional philosophy and of how the late chief justice put it to work. While the book is scrupulously documented, a product of well-tilled archives, interviews, audio analysis and FBI files, Jenkins doesn't spend much time plumbing the origins of that conservatism. But neither, he suggests, did Rehnquist."

Milwaukee Journal Sentinel
"Sure to incite passions among both conservative and liberal court watchers."

Booklist
"Jenkins illuminates both the human side of Rehnquist, his parsimony and addiction to prescription painkillers, and his judicial philosophy, which generated little in the way of law but which supported  a strong conservative court  agenda for 33 years."

Library Journal
"Not only the story of the justice's life and career, this book is also a portrait of 20th-century American politics.  Recommended for readers interested in the Supreme Court and U.S. politics."   
New York Journal of Books 
"The strength of this book: The author focuses on the man and does not get mired in cases."