The Kings' Mistresses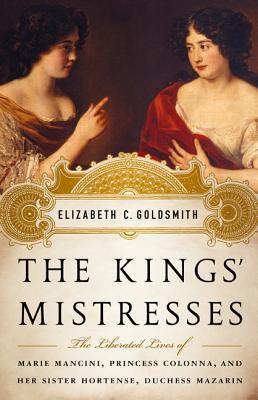 The Kings' Mistresses
The Liberated Lives of Marie Mancini, Princess Colonna, and Her Sister Hortense, Duchess Mazarin
PublicAffairs, Hardcover, 9781586488895, 288pp.
Publication Date: April 3, 2012
* Individual store prices may vary.
Buy at Local Store
Enter your zip code below to purchase from an indie close to you.
or
Buy Here
Description
The little-known story of two spirited sisters who flaunted every social convention of 17th century Europe in their determination to live independently
About the Author
Elizabeth C. Goldsmith is a professor of French at Boston University. She has written books on literature in the age of Louis XIV, focusing on letter correspondences and women's writing. She teaches courses on seventeenth-century theater and the novel, travel writing, and historical fiction.
Praise For The Kings' Mistresses…
Kirkus Reviews
"The story of the 17th-century version of the Kardashian sisters, but with the added touch of brains, literacy and class…. [T]he story moves along at a swift pace…. [F]ascinating."
Dr. Amanda Foreman, FRSA, author of Georgiana and A World on Fire
"A fascinating account of two genuine rebels—seventeenth century sisters who fought for the sisterhood, and throughout their extraordinary adventures always gave as good as they got.
The Kings' Mistresses
succeeds in being both entertaining and highly instructive." 
Susan Holloway Scott, author of The Countess & the King
"At last two of history's most fascinating sisters have the book they deserve. Rich with period detail and thoughtful research, this is biography at its very best: the intertwined story of two women who refused to be ruled by either husbands or kings, and dared instead to create their own destiny." 
Leslie Carroll, author of Royal Affairs
"The bigger scandal in this fascinating double biography is not the bold behavior of its aristocratic heroines, whose colorful lives a novelist would envy—but the shocking treatment they endured at the hands of the powerful men who sought to punish them for seeking their independence. The lengths they went to bring the Mancini sisters to heel will leave readers shocked, wishing they could turn back the hands of time to champion these courageous survivors themselves." 
Barbara Diefendorf, Professor of History, Boston University, author of Beneath The Cross
"The Mancini sisters demanded a freedom that law and custom denied their sex. Goldsmith shows the high price both women paid for this freedom, while celebrating the liberated spirit with which they pursued it. The book is a page-turner; it is also good history."
Publishers Weekly
"[A]n atmospheric, absorbing tale of 17th-century female media stars taking charge of their own lives."
Booklist
"This ribald tale works all the better because it is true…. Culling their correspondence and memoirs, Goldsmith is able to paint a vivid portrait of two remarkably daring free spirits who paved the way for centuries of women stifled and exploited by both men and societal constraints…. Revolutionary, cutting-edge, and inspiring, their lives are worthy of revisiting."
Library Journal"Goldsmith presents the sisters as pioneers who embraced notoriety by publishing accounts of their unconventional lives. Their prominence during the emergence of print journalism prompted debates on women's rights, marriage, and property laws….[A] spirited account that humanizes the experiences of 17th-century women."