The Locavore's Dilemma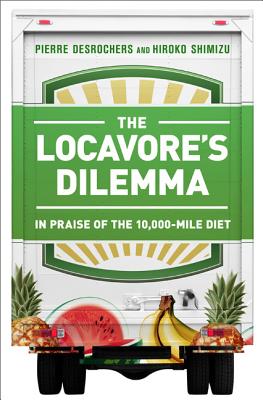 The Locavore's Dilemma
In Praise of the 10,000-Mile Diet
PublicAffairs, Hardcover, 9781586489403, 256pp.
Publication Date: June 5, 2012
* Individual store prices may vary.
Buy at Local Store
Enter your zip code below to purchase from an indie close to you.
or
Buy Here
Description
A feisty, scrupulously-researched deconstruction of the eat local" ethosand how it distracts us from solving serious global food issues
About the Author
Pierre Desrochers is associate professor of geography at the University of Toronto. His main research areas include technical innovation, business-environmental interactions, economic development, and food policy.


Praise For The Locavore's Dilemma…
from the Foreword by Blake Hurst, president, Missouri Farm Bureau
"In large parts of the world, local trumps science, and people suffer as a result….  Desrochers and Shimizu take the idea of local food to the back of the barn and beat the holy livin' tar out of it. In a more rational world, their defense of what is so clearly true would not be needed. However, our world is not rational, and most of what passes for thinking about food is as full of air as an elegant French pastry."

Ronald Bailey, Reason.com
"Desrochers and Shimizu demonstrate that the debate over food miles is a distraction from the real issues that confront global food production."

MasterResource.org
"Desrochers … is the scholar's scholar. In an age where few read all important material on all sides of their subject, this professor stands out."

Sustainability: Science, Practice, & Policy, sspp.proquest.com
"Desrochers … delivers a serious warning to the fetishization of local agriculture as the magic bullet that will solve our food problems."
Bookloons
"There is plenty of food for thought in this unconventional, provocative look at how we should go about feeding the masses. The authors…make some very interesting points and raise concerns that must be addressed." 
NATURE Magazine

"The book's strength lies in the cheerful ruthlessness with which the authors chal­lenge sloppy thinking, special pleading and the lazy logic that assumes that 'local' must be 'best'"
Spiked.com
"The Locavore's Dilemma is an ideal weapon in countering the enormous quantities of metaphorical organic manure that pass for evidence in the modern debate about food."

The Times Literary Supplement
"[The authors] are right to question the limits of 'local'... We certainly need a more sophisticated metric than 'food miles'."

Library Journal
"This often acerbic, thoroughly researched, yet controversial title provides much food for thought on the often oversimplified but ever complex issue of food miles."