Living the Sabbath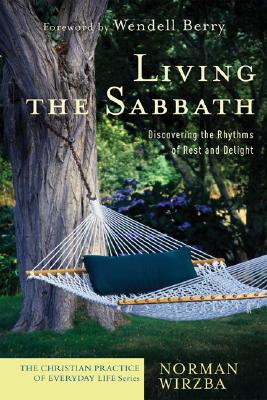 Living the Sabbath
Discovering the Rhythms of Rest and Delight
Brazos Press, Paperback, 9781587431654, 172pp.
Publication Date: December 2006
* Individual store prices may vary.
Shop Local
Enter your zip code below to find indies closest to you.
Description
Sabbath is one day a week when we should rest from our otherwise harried lives, right? In "Living the Sabbath," Norman Wirzba leads us to a much more holistic and rewarding understanding of Sabbath-keeping. Wirzba shows how Sabbath is ultimately about delight in the goodness that God has made--in everything we do, every day of the week. With practical examples, Wirzba unpacks what that means for our daily lives at work, in our homes, in our economies, in school, in our treatment of creation, and in church. This book will appeal to clergy and laypeople alike and to all who are seeking ways to discover the transformative power of Sabbath in their lives today.
About the Author
Norman Wirzba (PhD, Loyola University, Chicago) is professor of theology and ecology at Duke University Divinity School in Durham, North Carolina. He is the author or editor of numerous books, including "Food and Faith: A Theology of Eating", "Living the Sabbath", "Making Peace with the Land" (coauthored with Fred Bahnson), "The Essential Agrarian Reader", "The Paradise of God: Renewing Religion in an Ecological Age", and "The Art of the Commonplace: The Agrarian Essays of Wendell Berry".

A prolific nonfiction writer, novelist, and journalist, Gene Logsdon has published more than two dozen books, both practical and philosophical. Gene's nonfiction works include Holy Shit, Small-Scale Grain Raising, Living at Nature's Pace, The Contrary Farmer's Invitation to Gardening, Good Spirits, and The Contrary Farmer. His most recent novel is Pope Mary and the Church of Almighty Good Food. He writes a popular blog, The Contrary Farmer, as well as an award-winning column for the Carey Ohio Progressor Times, and is a regular contributor to Farming Magazine and Draft Horse Journal. He lives and farms in Upper Sandusky, Ohio. You can visit his blog at http: //thecontraryfarmer.wordpress.com/.