The Wellness Workbook, 3rd Ed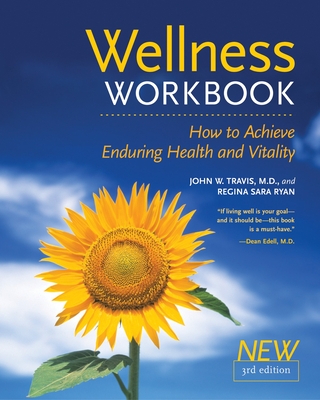 The Wellness Workbook, 3rd Ed
How to Achieve Enduring Health and Vitality
Celestial Arts, Paperback, 9781587612138, 384pp.
Publication Date: April 1, 2004
* Individual store prices may vary.
Buy at Local Store
Enter your zip code below to purchase from an indie close to you.
or
Buy Here
Description
For more than thirty years, John W. Travis, M.D., and Regina Sara Ryan have taught hundreds of thousands of people a practical whole-self approach to wellness and healthy living. Each chapter of the comprehensive WELLNESS WORKBOOK explores one of the twelve interconnected forms of energy that contribute to your overall health and vitality:
Self-Responsibility and Love, Breathing, Sensing, Eating, Moving, Feeling, Thinking, Playing and Working, Communicating, Sex, Finding Meaning, Transcending
From how you breathe to how you view the world, these twelve areas affect all aspects of your life: your disposition toward injury and illness, your relationships, your general level of happiness, and beyond. In an optimal state of wellness, all of your energies are in balance, and you are less prone to disease, stress, and other life-depleting factors. Using a self-assessment tool known as the Wellness Index, you ll develop a clear picture of what areas in your life need attention.
Now in its third edition, the thoroughly updated and streamlined WELLNESS WORKBOOK provides hundreds of exercises and ideas to help you take control of your health and happiness.
. A classic text in the wellness field, thoroughly revised and updated, and streamlined for a more simple and practical presentation.
. Chapters cover self-responsibility and love, breathing, sensing, eating, moving, feeling, thinking, playing and working, communicating, sex, finding meaning, and transcending.
. Previous editions have sold more than200,000 copies.
About the Author
Regina Sara Ryan is a wellness consultant, and author of several classic books in the field of health and well-being, including the Wellness Workbook (co-authored with John W. Travis, M.D.), which has sold over 150,000 copies and is now in its third edition from Ten Speed Press.

JOHN W. TRAVIS, M.D., founded the first wellness center in the United States 1975. He is the author of several books on wellness and cofounder of the Alliance for Transforming the Lives of Children. He lives in Victoria, Australia.
Praise For The Wellness Workbook, 3rd Ed…
WELLNESS WORKBOOK integrates physical health with feeling well, which is no small task. Our emotions, attitudes, and beliefs play critical roles in wellbeing. In recognizing this fact, WELLNESS WORKBOOK offers down-to-earth practical approaches to help us enjoy our lives and our good health. If living well is your goal-and it should be-this book is a must-have.
-Dean Edell, M.D., author of Life, Liberty, and the Pursuit of Healthiness
"One of the great paradoxes of our high-tech age is that good health fundamentally depends on simple, practical things-things we can and must do for ourselves. WELLNESS WORKBOOK has brought home this truth to hundreds of thousands of individuals around the world. This new edition remains a clarion call for total health: wellness of body, mind, and spirit." -Larry Dossey, M.D., author of  Healing Beyond the Body and Reinventing Medicine
"Without a doubt, WELLNESS WORKBOOK is the most valuable and useful resource on wellness ever written. It has often been said that there is, unfortunately, no manual for living-but this well-loved book comes pretty close." -Meg Jordan, Ph.D., R.N., Global Medicine Hunter® and editor and founder of American Fitness magazine