Alternative Medicine Magazine's Definitive Guide to Sleep Disorders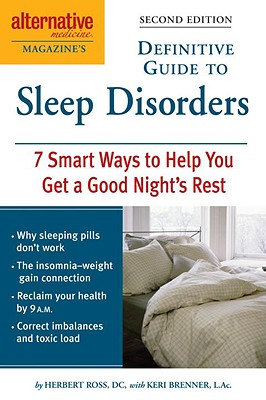 Alternative Medicine Magazine's Definitive Guide to Sleep Disorders
7 Smart Ways to Help You Get a Good Night's Rest
Celestial Arts, Paperback, 9781587612633, 264pp.
Publication Date: August 1, 2007
* Individual store prices may vary.
Buy at Local Store
Enter your zip code below to purchase from an indie close to you.
or
Not Currently Available for Direct Purchase
Description
If you suffer from insomnia, sleep apnea, restless leg syndrome, or other sleep disorders, you don''t have to endure another long, sleepless night. This second edition of ALTERNATIVE MEDICINE MAGAZINE'?S DEFINITIVE GUIDE TO SLEEP DISORDERS holds the keys to lasting relief from such sleep-disturbing factors as toxic overload and body clock disruptions. Outlining seven reasons why people have trouble falling and staying asleep, sleep specialist Dr. Herbert Ross recommends several natural techniques-detoxification, dietary change, mind-body therapies, exercise, and more-to promote better sleep while enhancing your overall health. Unlike sleeping pills, which decrease sleep quality and become less effective over time, these holistic treatments will benefit your whole body over the long term to help you lose weight, increase immune system function, boost energy, improve mood, and enhance concentration. Good health and vitality are just a good night''s sleep away.
Praise For Alternative Medicine Magazine's Definitive Guide to Sleep Disorders…
"In our sleep-deprived, caffeinated, overmedicated, and exhausted society, this book is the first and only comprehensive overview of the real reasons we can't sleep. If you are struggling to sleep better, this groundbreaking guide details effective and novel strategies that you will see nowhere else. It is the first and last place you'll need to search for answers."-Mark Hyman, MD, editor in chief of Alternative Therapies in Health and Medicine and coauthor of Ultraprevention"This book's gold mine of invaluable information, used in conjunction with good medical advice from an accredited sleep disorders center, will help you get a good night's rest. Physicians would be asleep at the switch if they did not add this book to their library."-James B. Maas, Ph.D., Weiss, presidential fellow and professor at Cornell University, and author of Power Sleep