Mother Rising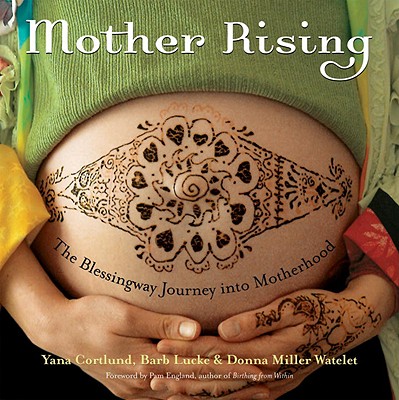 Mother Rising
Celestial Arts, Paperback, 9781587612671, 176pp.
Publication Date: May 1, 2006
* Individual store prices may vary.
Buy at Local Store
Enter your zip code below to purchase from an indie close to you.
or
Not Currently Available for Direct Purchase
Description
Different from a baby shower, where gifts are lavished upon the soon-to-be-born child, a blessingway ceremony honors the mother-to-be and creates a circle of support that will cradle her as she prepares to give birth. Surrounded by the most important women in her life, she can explore the challenges and joys that lie before her, gaining a sense of power and confidence that will help her rise to motherhood. MOTHER RISING shows women how to organize and personalize a blessingway for the expecting friends and family-an experience that will give the mother-to-be the best possible gifts of deep happiness, serenity, and abundance of love.A resource for planning and hosting a blessingway ceremony-a woman-centered celebration of the journey into motherhood.Ideal gift for or from an expectant mother who wants a more meaningful and transformational experience than the traditional, gift-focused baby shower.Outlines the five stages of the blessingway ritual, from establishing a safe and sacred space to honoring and pampering the mother-to-be.Finalist in both the 2004 Independent Publisher Book Awards and Foreword magazine's Book of the Year Awards.Features sidebars, inspirational quotations, resources, and checklists.
About the Author
Yana Cortlund, Barb Lucke, and Donna Miller Watelet have been creating and leading blessingway rituals for almost 10 years. A writer, a former La Leche League leader, and an interfaith minister, these three women are also mothers who have come together to support one another through many life passages, including motherhood. They each live with their families and various pets just outside of Rochester, New York. Visit www.blessingwaybook.com

Yana Cortlund, Barb Lucke, and Donna Miller Watelet have been creating and leading blessingway rituals for almost 10 years. A writer, a former La Leche League leader, and an interfaith minister, these three women are also mothers who have come together to support one another through many life passages, including motherhood. They each live with their families and various pets just outside of Rochester, New York. Visit www.blessingwaybook.com

Yana Cortlund, Barb Lucke, and Donna Miller Watelet have been creating and leading blessingway rituals for almost 10 years. A writer, a former La Leche League leader, and an interfaith minister, these three women are also mothers who have come together to support one another through many life passages, including motherhood. They each live with their families and various pets just outside of Rochester, New York. Visit www.blessingwaybook.com