Smart at Heart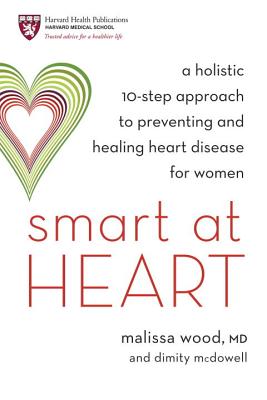 Smart at Heart
A Holistic 10-Step Approach to Preventing and Healing Heart Disease for Women
Celestial Arts, Paperback, 9781587612787, 282pp.
Publication Date: December 27, 2011
* Individual store prices may vary.
Shop Local
Enter your zip code below to find indies closest to you.
Description
If you are one of the millions of women who has been diagnosed with heart disease or are at risk for developing it, you might be surprised to learn that simple life changes will profoundly affect your health. According to a revolutionary study by Harvard-trained cardiologist Malissa Wood, true cardiovascular health must address the whole heart--its physical, emotional, and spiritual aspects.
Dr. Wood's findings form the basis of "Smart at Heart," a breakthrough mind-body approach to preventing and healing heart disease by strengthening the ten "bridges" that create total heart health. By exploring these ten key areas of your life, you can fight heart disease. For example, while exercise and nutrition are known to improve cardiac health (and make up two of the bridges), Dr. Wood's study also shows how small changes to your environment, the way you communicate, or how you handle stress has a big effect on your heart. So something as commonplace as clearing out the clutter from your home can positively change not only your emotions, but also your physical well-being.
Heart disease is a serious diagnosis and if you are at risk, there's a lot you can do to improve your own health. "Smart at Heart" empowers you with the solutions you need--backed up by science--to create a healthy, whole heart.
About the Author


A veteran of eight marathons with a competitive streak a mile long, Sarah Bowen Shea is a freelance writer specializing in fitness, health, gear, and parenting. She contributes to a variety of publications, including "Shape, SELF, Runner's World, Whole Living", and the "New York Times". She lives in Portland, Oregon, with her husband, Jack, and three young children, including boy-girl twins.

A dedicated if not natural runner, Dimity McDowell writes regularly about sports and fitness for a range of magazines, including "Runner's World" and "ESPN: The Magazine". She lives and runs (at 5,280 feet) in Denver, Colorado, with her husband, Grant, two kids, and two dogs.
Praise For Smart at Heart…
"If improving your general health and longevity is on your to-do list, this book is for you. Dr. Wood shares cutting-edge research, personal anecdotes, and inspirational patient stories in a heartfelt guide that will touch your heart and improve your health."
--Marie Pasinski, MD, author of Beautiful Brain, Beautiful You
 
"Smart at Heart is a wonderful combination of up-to-date medical information and realistic advice, all from a cardiologist who manages to be humble, sensible, and caring. Any woman who wonders how she can improve her heart health should read it."
--Alice Domar, PhD, director of Domar Center for Mind/Body Health, coauthor of Live a Little