Urban Tantra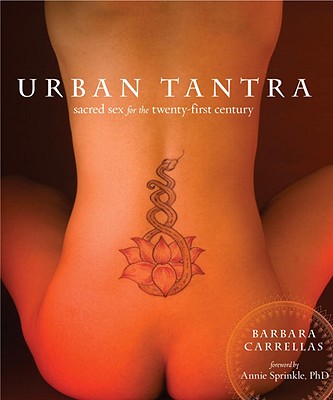 Urban Tantra
Sacred Sex for the Twenty-First Century
Celestial Arts, Paperback, 9781587612909, 288pp.
Publication Date: April 1, 2007
* Individual store prices may vary.
Buy at Local Store
Enter your zip code below to purchase from an indie close to you.
or
Buy Here
Description
If you think sexual and spiritual bliss can't be found in today's fast-paced world, you haven't experienced Urban Tantra. With a juicy mix of erotic how-to and pleasure-centered spiritual wisdom, acclaimed sex educator Barbara Carrellas radically updates the ancient practice of Tantra for modern sexual explorers desiring to push past their edge in search of the great cosmic orgasm.With more than one hundred easy-to-follow techniques for expanded orgasmic states and solo and partner play (as well as more adventurous practices), this in-depth guide reveals the delicious worlds of ecstasy available to all, including: The Erotic Awakening Massage Breath and Energy Orgasms Twenty-Minute Tantra Evolutionary Selfloving Sex and Healing Tantric BDSMNo matter what your gender, sexual preference, or erotic tastes, URBAN TANTRA will expand your notions about pleasure and open you up to new heights of intimacy and sexual fulfillment.
About the Author
Barbara Carrellas is a sex educator, sex positivist and pleasure activist. Her knowledge and practice of Tantra, Reiki, rebirthing, ritual, herbal medicine, bodywork, erotic massage, conscious and sacred sexuality are demonstrated in her workshops for men and women. She has written and produced 'DzThe Pleasure Principle,'Dy a series of educational audio tapes. She was recently named the Best Tantric Sex Seminar Leader in New York City by Time Out for her pioneering series of Urban Tantra workshops.

Annie Sprinkle, Ph.D., is a one-of-a-kind sex expert. Over the past thirty years, she has starred in hundreds of erotic films and worked as a pinup model, erotic photographer, and sex film director. For more than a decade, she has worked primarily as a sex-life coach and conducted lectures and workshops at museums, universities, and wellness centers around the world.
Praise For Urban Tantra…
"This is honestly the best book written on Tantra, period."-Playgirl"Few books on Tantra are truly brilliant. Barbara Carrellas has written of Urban Tantra in a way that warms my heart . . . honest, clear, human and insightful. I am laughing and loving Tantra all over again."-Caroline Muir, co-author, Tantra, The Art of Conscious Loving"Sex educator Carrellas takes tantra out of the exclusive domain of white New Age heterosexuals and makes a compelling-and hot, and damp-argument that tantra is for all of us. Her frank how-to offers suggestions for incorporating tantric principles into queer couplings, with a healthy respect for putting sex back at the center of our lives."-Out magazine"URBAN TANTRA gives me hope that the world will become a more sexually satisfied, ecstatic, enlightened, and inclusive place."-Annie Sprinkle, PhD, from the foreword"URBAN TANTRA is the most pleasurable, fun, meaningful, and liberating book on sex ever! Thank you, Barbara!"-Christiane Northrup, MD, author of Women'­s Bodies, Women'­s Wisdom "At last, a sex book with a sense of humor, and one that dispels the notion that sex is always, only and forever, between one man and one woman. I can'­t wait to see generations grow up with the study and use of URBAN TANTRA!"-Kate Bornstein, author of Gender Outlaw and Hello, Cruel World"Any book on Tantra that begins by describing a professional lap dance as a divine sexual experience is one I will definitely read. Written with wit and humor, Barbara's URBAN TANTRA keeps sex real, and, best of all, the rituals are fun."-Betty Dodson, PhD, author of Sex for One and Orgasms for Two"If you ever thought Tantra wasn'­t for you-too foreign or gimmicky or New Agey, or not edgy enough for your radical sex explorations-Barbara Carrellas will cure you of all misconceptions and bring you an Urban Tantra to unite your sex, your spirit, your erotic wanderlust, your edge."-Carol Queen, author of Real Live Nude Girl and director of the Center for Sex & Culture, San Francisco"URBAN TANTRA offers a daring, delicious, profound, courageous, and altogether magical celebration that will teach us all to dance to the rhythms of the universe. Barbara Carrellas has written the ultimate how-to book uniting sex with spirit, healing with philosophy, and the animating force of the cosmos with each and every one of us. So if you'd like to live your sex life on a galactic scale, you must read this book!"-Dossie Easton, coauthor of The Ethical Slut"Everyone needs to rejoice in their own sexuality, and Barbara shows us how in this very informative, easy-to-use book. It would be nice to practice Tantra in a lovely remote garden or high atop a mountain, but the reality is that in today'­s world many of us don'­t have that luxury. Barbara demonstrates that it doesn'­t matter where you practice, as long as you'Âre conscious when you do. Now, let go and enjoy Urban Tantra."-Louise Hay, author of You Can Heal Your Life and Empowering Women"URBAN TANTRA is a courageous book by Barbara Carrellas, one of the pioneers in contemporary American Tantra. This engaging and comprehensive guide includes numerous powerful exercises as well as moving personal anecdotes that reveal how the conscious exploration and embrace of sexuality can function as a tool for transformation."-Mark A. Michaels (Swami Umeshanand Saraswati) and Patricia Johnson (Devi Veenanand), authors of The Essence of Tantric Sexuality"Barbara Carrellas, whose Urban Tantric sex workshops combine Eastern sex techniques with the postmodern methods of SM practitioners, is a trailblazer."-Tristan Taormino, The Village Voice