Healing the Addictive Personality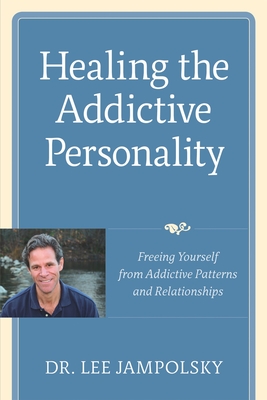 Healing the Addictive Personality
Freeing Yourself from Addictive Patterns and Relationships
Celestial Arts, Paperback, 9781587613159, 178pp.
Publication Date: January 1, 2008
* Individual store prices may vary.
Buy Now
or
Shop Local
Enter your zip code below to purchase from an indie close to you.
Description
Since 1991, Dr. Lee Jampolsky's self-help classic Healing the Addictive Mind has given well over 100,000 people around the world the tools to create significant change in their lives. Now he continues his proven and trustworthy blend of practical and positive psychology with HEALING THE ADDICTIVE PERSONALITY. Dr. Jampolsky's straightforward approach, based on firsthand experience, presents ways of healing addictive thinking, behavior, and destructive relationship patterns with forgiveness, compassion, and the potential for limitless opportunity through an eleven-week action plan.A personal note from the author: Many people live in a self-imposed prison and don't even know it. I did. For years I was so busy building walls I did not see that I was imprisoning myself behind them. My addictive thinking and behavior became the bars of my cell. I denied feeling empty inside and instead looked for new things to acquire, substances to take, and goals to achieve in order to feel better about myself. Sometimes I felt momentarily free, powerful, and whole, but in the end my addictive cycle only compounded my loneliness and despair. If you recognize this pattern in yourself, this book is addressed to you. Today, I am able to tell you I now know what true freedom and happiness are and I offer the path that I intend to follow every day of my life. Reviews: "This 178 page book is a miraculous Godsend because it goes deep to expose the profile of the addictive personality, and then broadens from there to show us how to recognize the characteristics of the addictive personality and understand why it develops in the first place. The layout of this awesome teacher helped me to see how I can go from a place of addictive thinking to having a truth-based personality.I liked how the negative core beliefs were laid bare, and the healthy counterparts were readily available because many times there is denial associated with addiction and it helped me see the true man behind the curtain and not just the illusions I have been living with. The cunning foe of addiction has become such a part of our society that I would recommend this crucial and charming champion to anyone at any stage of their spiritual growth and development. This precious gem will help many on the path to serenity and it has found it's way to my spiritual toolbox. Thanks, Dr. Lee for this most excellent way out. Riki Frahmann www.mysticlivingtoday.com.
About the Author
Jampolsky is a psychologist. He lectures and conducts workshops internationally in the fields of health, business, education, and psychology. Dr. Jampolsky has founded highly acclaimed programs in clinical psychology and chemical dependency. He served on the medical staff and as a consultant for leading hospitals, and has been on the faculty of three graduate schools of professional psychology.