Darwin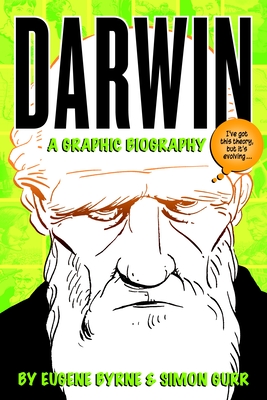 Darwin
A Graphic Biography
Smithsonian Books (DC), Paperback, 9781588343529, 96pp.
Publication Date: February 5, 2013
* Individual store prices may vary.
Buy Now
or
Shop Local
Enter your zip code below to purchase from an indie close to you.
Description
Darwin: A Graphic Biography is an inspiring expedition into the physical and intellectual adventures of Charles Darwin. Presenting Darwin's life in a smart and entertaining graphic novel, Darwin: A Graphic Biography attempts to not only educate the reader about Darwin but also the scientific world of the 1800s. The graphic medium is ideal for recreating a very specific time frame, succeeding in placing the reader right next to a young Darwin on a "beetling" expedition. With specimens in both hands, and anxious to get another, Darwin ends up stuffing the third beetle into his mouth. Darwin's life presented in this form is an inspirational tale for kids of all ages. They'll be sure to identify with a curious young Darwin finding his way on youthful adventures in the fields near his house. The ups, downs, and near-misses of Darwin's youth are portrayed honestly and without foreshadowing of his later fame. This is a key point for younger readers: that Darwin wasn't somehow predestined to greatness. He was curious, patient, and meticulous. He persevered--a great lesson about what science is all about.
Praise For Darwin…
PUBLISHERS WEEKLY

Early in this bio, a college-age Darwin is out collecting beetles when he spies a rare bombardier beetle. With beetles already in both hands, he shoves the new specimen into his mouth, only to have it release a "hot, stinking mixture" of chemicals, causing him to lose all three insects. This is a typical anecdote in the account, which covers Darwin's entire life, from his upbringing and studies to his fateful voyage aboard the Beagle and publication of On the Origin of Species. Using the framing device of a group of wisecracking monkeys recording a nature special, Byrne and Gurr present Darwin as a misfit who never quite found a place in regular society. Gurr's b&w art is skillfully executed, but it does little to further the narrative on its own, and the book falls into a pattern of dense text explanations with drawings that fill in examples. While the book may be too text-heavy for a mass appeal, its drawbacks are outweighed by its sense of humor and its novel approach to telling the life story of one of history's most famous and misunderstood scientists. Ages 10–15. (Feb.)

SCHOOL LIBRARY JOURNAL

Darwin's experiences and achievements are set within an overview of how societal views on science and religion evolved before his birth, during his lifetime, and after his death. The book is introduced by a group of anthropomorphic wild animals in Madagascar that are filming a documentary about Darwin's life for a channel called APE-TV. The monkeys serve to bookend the story, act as narrators and commentators, and provide comic relief. While readers who pick up this book will be able to learn a lot about Darwin's life, his theories, and the way they have stirred up controversy over the years, the format does not make the book accessible for assignments. That said, it is both witty and readable, and students who finish it will definitely have a better handle on the man and will see how his theories changed our understanding of the world. The black-and-white illustrations include cartoons, diagrams, and photographs, providing a good mix of scientific accuracy and humor that will make the subject matter more appealing.–Andrea Lipinski, New York Public Library

"a fine addition to outstanding graphic nonfiction, joining other famous graphic biographies of cultural icons like Richard Feynman, Hunter S. Thompson, The Carter Family, and Steve Jobs."  Brain Pickings

Darwin: A Graphic Biography is aimed at 10- to 15-year-olds. However, it's also sophisticated and detailed enough to give older readers a fantastic springboard into the life and scientific times of the world's greatest biologist.  Grovel


Eugene Byrne and Simon Gurr have crafted another history title of note with Darwin: A Graphic Biography, which will be published in February. I've read many books on Darwin, and still think there are not enough in the world, yet find it easy to recommend this new one to teens. In detailed, shadowed black-and-white drawings, the authors provide a "really exciting and dramatic story of a man who mostly stayed home and wrote some books." The standard facts are included: Darwin's childhood and early attraction to natural science, his voyage on the Beagle, and his long contemplation of evolution that led to writing and publication of The Origin of the Species. But the facts are not what make this telling of his life so good.

Byrne and Gurr frame Darwin within the fanciful setting of a wildlife program filmed for "Ape TV," and the narrative is peppered with plenty of pithy footnotes, as well as some intense discussion of evolution. The apes interject infrequently, just enough to bring in the humor, but keeping the story from devolving into silliness, and the poignancy of Darwin's life and the challenges he faced on his path to the truth (in a shared role, thankfully noted here by Alfred Russell Wallace) are not overlooked. More importantly, the authors manage to introduce some timely intellectual discussions without intimidating readers who might be fairly new to Darwin's biography and make clear that the conclusions he reached were not casual or naïve. It's a careful tightrope Byrne and Gurr walk of making their subject accessible, while not reducing his ideas to talking points. I think they have done a great job with Darwin, while injecting some unexpected humor into a very serious subject. Taken alongside Economix, this slim volume proves further the harmonious relationship that can be found between nonfiction and the graphic novel format.  Bookslut
In Darwin: A Graphic Biography, Eugene Byrne and Simon Gurr have created an enjoyable account of Charles Darwin's life and accomplishments that should resonate with young readers and clarify the often muddy waters surrounding the man and his contributions to science. [...] The book's primary audience may be children and teenagers, but Byrne doesn't dumb down the science; he simply gets to the core of it. As a result, Darwin: A Graphic Biography is fun and informative for readers of any age. Foreword