Poor Man's Provence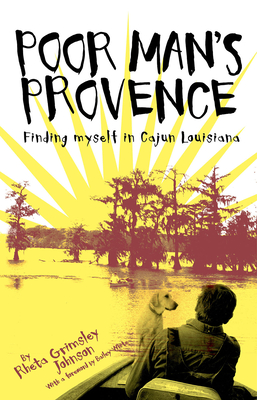 Poor Man's Provence
Finding Myself in Cajun Louisiana
NewSouth, Hardcover, 9781588382184, 221pp.
Publication Date: March 1, 2008
* Individual store prices may vary.
Buy Now
or
Shop Local
Enter your zip code below to purchase from an indie close to you.
Description
These days, much is labeled Cajun that is not, and the popularity of the unique cultures food, songs, and dance has been a mixed blessing. Poor Mans Provence helps define whats what through lively characters and stories.

About the Author
Rheta Grimsley Johnson has covered the South for over three decades as a newspaper reporter and columnist. She writes about ordinary but fascinating people, mining for universal meaning in individual stories. In past reporting for United Press International, the Commercial Appeal of Memphis, the Atlanta Journal-Constitution, and a number of other regional newspapers, Johnson has won national awards. In 1986, she was inducted into the Scripps Howard Newspapers Editorial Hall of Fame. In 1991, she was one of three finalists for the Pulitzer Prize for commentary. Syndicated today by King Features of New York, Johnson's column appears in about 50 papers nationwide. She is the author of several books, including America's Faces (1987) and Good Grief: The Story of Charles M. Schulz (1989). In 2000, she wrote the text for a book of photographs entitled Georgia. A native of Colquitt, Georgia, Johnson grew up in Montgomery, Alabama, studied journalism at Auburn University, and has lived and work

Bailey White was born and raised in Thomasville, Georgia. She has worked as a schoolteacher and a writer. Her essays and stories have appeared in magazines and on NPR's "All Things Considered". She is the author of two story collections, "ama Makes Up Her Mind" and "Sleeping at the Starlite Motel", and a novel, "Quite a Year for Plums".
Sunday, Nov 29, 2009
Just beyond the Mississippi River and over by the Atchafalaya swamp is where you'll find Henderson, La. Longtime Southern newspaper columnist Rheta Grimsley Johnson's book, Poor Man's Provence: Finding Myself in Cajun Louisiana, chronicles her love affair with the town. More at NPR.org