Rocky Stories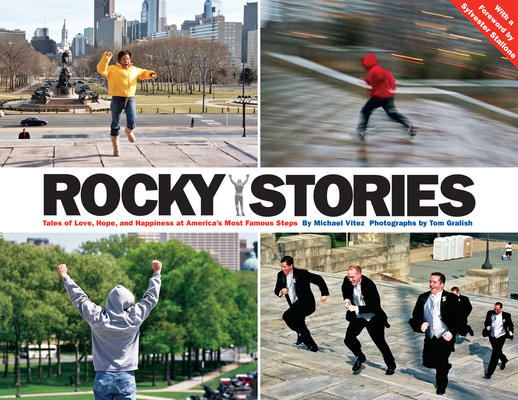 Rocky Stories
Tales of Love, Hope, and Happiness at America's Most Famous Steps
Paul Dry Books, Paperback, 9781589880290, 129pp.
Publication Date: November 1, 2006
* Individual store prices may vary.
Buy at Local Store
Enter your zip code below to purchase from an indie close to you.
or
Buy Here
Description
"Two extraordinarily talented journalists, Michael Vitez and Tom Gralish, have captured this uniquely American phenomenon with whimsy, poignancy, and utter charm."John Grogan, author of "Marley & Me"
""Rocky Stories" captures the sprawling complexity of life. It's a delight."Mark Bowden, author of "Black Hawk Down"
"A book that is an absolute joy and an absolute blast and quintessentially American in its hopes and dreams and sweetness."Buzz Bissinger, author of "Friday Night Lights" and "A Prayer for the City"
Pulitzer Prize-winners Michael Vitez and Tom Gralish of the "Philadelphia Inquirer" spent a year visiting the Philadelphia Museum of Art to capture the stories of "Rocky runners," who come from all over the world to run up America's most famous stepsjust as Sylvester Stallone did in "Rocky." People make the pilgrimage to mark a new beginning, to seek inspiration, to celebrate an accomplishment, to find the perfect backdrop for romance, or simply because they love the movie. As one runner says, "It gives you the feeling that anything is possible."
The authors have uncovered an enduring cultural phenomenon, one that centers on Philadelphia, and yet, as Michael Vitez writes in his introduction, is a true American, and even international, rite of passage.
The book includes fifty-two profiles and one hundred color photographs, together with a foreword by Sylvester Stallone, and interviews with "Rocky"'s Academy Award-winning director John G. Avildsen, composer Bill Conti, and cameraman Garrett Brown.
In his foreword, Sylvester Stallone sums up his thoughts on the phenomenon: "You can't borrow Superman's cape. You can't use the Jedi laser sword. But the steps are there. The steps are accessible. And standing up there, you kind of have a piece of the "Rocky" pie."
" C]harming photo essay of people who retraced Rocky's steps and felt their own exhilaration doing it.""San Francisco Chronicle"
"The extent to which the Rocky myththat of the perennial loser who proves he's 'not just another bum from the neighborhood'has resonated is documented in this winning book.""Sports Illustrated"
"I've only skimmed it, and already I'm in love with the book "Rocky Stories."(It had me at the title.)It may sound like a movie tie-in, but it's not. It's just a fascinating testament to how the words 'Rocky' and 'underdog' are still interchangeable 30 years after the film's release.""Entertainment Weekly"'s PopWatchcolumn
"The Rocky steps have become a special place for tourists and Philadelphians alike. Virtually everyone who lives here or comes here wants to say that they ran up the Rocky steps and saw the incredible view down the Benjamin Franklin Parkway. When I was Mayor, the city planned 24 hours of millennium celebrations, one each hour. Of course we had to kick it off at the Rocky steps and we did so with 2,000 people all dressed like Rocky running up the steps at the same time. It was awesome."Former Pennsylvania Governor Edward G. Rendell
Michael Vitezhas been a staff writer at the"Philadelphia Inquirer"since 1985. For his series on end-of-life issues, he won the Pulitzer Prize for Explanatory Journalism.
Tom Gralishhas been at the"Philadelphia Inquirer"since 1983, working as both an editor and photographer. For his photo essay on the homeless, he won both the Pulitzer Prize for Feature Photography and the Robert F. Kennedy Journalism Award.
About the Author
Michael Vitez has been a staff writer at the Philadelphia Inquirer for 20 years. In 1997, he won the Pulitzer Prize for Explanatory Journalism for his series chronicling the lives of five people as they approached the end of life. He has taught writing and journalism at the University of Pennsylvania and Princeton University.



Sylvester Stallone is an actor, director, and writer. He is best known for writing and playing the starring role in Rocky, for which he was nominated for two Academy Awards and the film was nominated for ten. Other film credits include First Blood, Cliffhanger, Cop Land, Tango & Cash, and Demolition Man. Stallone is also the coproducer and star of the NBC reality series The Contender. He currently resides with his wife, Jennifer, and their three children in Los Angeles, California.