Great Granny Webster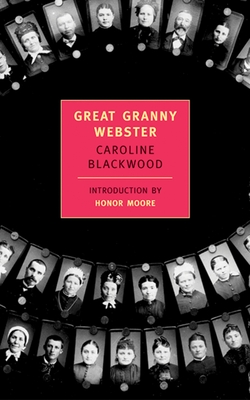 Great Granny Webster
New York Review of Books, Paperback, 9781590170076, 128pp.
Publication Date: June 30, 2002
* Individual store prices may vary.
Buy at Local Store
Enter your zip code below to purchase from an indie close to you.
or
Buy Here
Description
Great Granny Webster is Caroline Blackwood's masterpiece. Heiress to the Guinness fortune, Blackwood was celebrated as a great beauty and dazzling raconteur long before she made her name as a strikingly original writer. This macabre, mordantly funny, partly auto-biographical novel reveals the gothic craziness behind the scenes in the great houses of the aristocracy, as witnessed through the unsparing eyes of an orphaned teenage girl. Great Granny Webster herself is a fabulous monster, the chilliest of matriarchs, presiding with steely self-regard over a landscape of ruined lives.
About the Author
Caroline Blackwood est nee a Londres en 1931 dans une riche famille aristocratique anglo-irlandaise (elle est une heritiere Guinness par sa mere). A 19 ans, elle rencontre Lucian Freud avec qui elle s'installe un temps a Paris. En 1953, ils retournent vivre a Londres ou ils se marient. Elle frequente differents cercles d'artistes et ecrit pour des revues (Encounter, London Magazine). Apres avoir quitte Lucian Freud, elle part pour New York et Hollywood ou elle tourne dans plusieurs films. Elle epouse alors le pianiste americain d'origine polonaise Israel Citkowitz, qui lui donne trois enfants. De retour a Londres, Caroline Blackwood rencontre Robert Lowell, deja reconnu comme un des plus grands poetes du XXe siecle aux Etats-Unis. En 1970, ce dernier quitte l'ecrivain Elizabeth Hardwick pour epouser sa nouvelle muse. Leur relation passionnelle est bouleversee par les tendances maniaco-depressives de Robert Lowell. Il retourne a New York ou il meurt dans un taxi alors qu'il allait rejoindre son ex-epouse, un portrait de Caroline peint par Lucian Freud serre dans ses bras. Caroline retourne aux Etats-Unis en 1987. Elle continue d'ecrire, activite qu'elle a poursuivie tout au long de sa vie, publiant une dizaine de livres. Elle meurt a New York a l'age de 64 ans.

Honor Moore is a poet and the author of The Bishop's Daughter. She lives in New York City and teaches at the New School and Columbia University.
Praise For Great Granny Webster…
"Shocking, brilliant, and wickedly funny, Great Granny Webster is Caroline Blackwood's best book. In the monstrous old dowager of Hove, and the ruling class she represents, Blackwood found a subject grandly commensurate with her own extraordinary style of aghast relish." — Jonathan Raban

"None of us will forget Caroline Blackwood's Great Granny Webster, a matter-of-fact account—and all the grimmer for this matter-of-factness—of the temperamental and circumstantial misfortunes of an Ulster family. Although it's deceptively concise, it evokes the spirits of no less than four ages—Victorian, Edwardian, pre- and postwar—in exact and resonant prose…A unique literary experience." — Philip Larkin

"Blackwood loves monsters. No character in modern literature is more obdurately monstrous than Great Granny Webster. An Edwardian relic, this utterly pleasureless, stingy, censorious, ossified banshee, forever ensconced in her painfully stiff chair before a fireplace laid but never lit, is the stuffed and essentially powerless dragon of a musty castle, the remnant of hidebound and pointless traditional values, someone who has never in her life given anyone a reason to like her." — Gary Indiana, Bookforum

"Great Granny Webster feels more like a memoir than a novel…but it is as gripping as a whodunit. There are passages like passages in a strange house: when they turn a corner, something unexpectedly shocking comes into sight. It is also very funny, and the characters are vividly eccentric—or just plain vivid: Blackwood's writing never merely trundles along." — Gabriele Annan, The Times Literary Supplement