Part of Our Time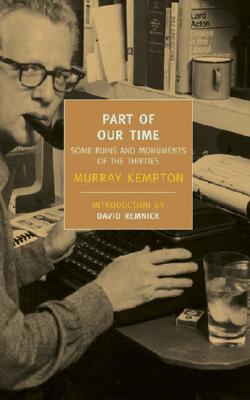 Part of Our Time
Some Ruins and Monuments of the Thirties
New York Review of Books, Paperback, 9781590170878, 340pp.
Publication Date: May 31, 2004
* Individual store prices may vary.
Buy Now
or
Shop Local
Enter your zip code below to purchase from an indie close to you.
Description
Through brilliant portraits of real persons who created the myths and realities of the 1930s, the Pulitzer Prize-winning journalist Murray Kempton brings that turbulent decade to life. Himself a child of the time, Kempton examines with the insight and imagination of a novelist the men and women who embraced, grappled with, and in many cases were destroyed by the myth of revolution. What he calls the "ruins and monuments of the Thirties" include Paul Robeson, Alger Hiss, and Whittaker Chambers, the Hollywood Ten, the rebel women Elizabeth Bentley and Mary Heaton Vorse, and the labor leaders Walter Reuther and Joe Curran.
About the Author
Murray Kempton (1917--1997) was a columnist for Newsday as well as a regular contributor to The New York Review. He won the Pulitzer Prize in 1985.

David Remnick is a staff writer at The New Yorker. He won the Pulitzer Prize for Lenin s Tomb, his first book, which was selected by The New York Times Book Review as one of the nine Best Books of the Year. He is the author of two other books, including a collection of essays. He lives in New York.
Praise For Part of Our Time…
"A valuable and entertaining text on the destruction of the radical left in American politics"
— Russell Baker

"He was free of the woeful predictability of ideologues of both the left and the right."
— Elizabeth Hardwick

"In presenting his segments of history Kempton uses the technique of the novelist—and it comes off brilliantly. He succeeds in evoking the characters of the men and women he writes about, and he does what only the good novelist can do: he re-creates the atmosphere of the time in which they functioned and so forces the reader to inhabit a world which may be alien, dimly recalled, or long forgotten."
— The Nation

"Kempton's book is exceedingly well written. It holds us in some places with a pathos of futility and in others with a drama of achievement….He does much to set in perspective an episode and a period that has been long distorted. The richness and pungency of his style make him easy to read."
— The New York Times

One of our finest journalists, Kempton was always something of a cult writer, revered by his peers but lacking the profile of a Jimmy Breslin or Garry Wills. A tabloid columnist who looked like a classics professor (he was rarely without his pipe), Kempton—first at the New York Post, then at Newsday—forged one of the most distinct, if not eccentric, styles in American journalism….His column always promised a strange, pleasurable experience: Pungent yet decorous, invariably teeming with rogues and scoundrels, corrupt pols and indicted capos, Kempton's pieces often read like a Damon Runyon sketch rewritten by a Victorian man of letters.
— Bookforum