Asleep in the Sun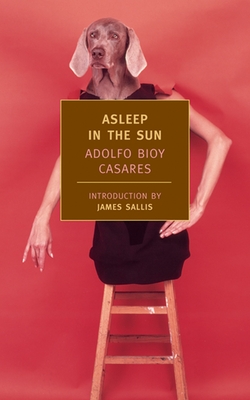 Asleep in the Sun
New York Review of Books, Paperback, 9781590170953, 172pp.
Publication Date: August 1, 2004
* Individual store prices may vary.
Buy Now
or
Shop Local
Enter your zip code below to purchase from an indie close to you.
Description
Lucio, a normal man in a normal (nosy) city neighborhood with normal problems with his in-laws (ever-present) and job (he lost it) finds he has a new problem on his hands: his beloved wife, Diana. She's been staying out till all hours of the night and grows more disagreeable by the day. Should Lucio have Diana committed to the Psychiatric Institute, as her friend the dog trainer suggests? Before Lucio can even make up his mind, Diana is carted away by the mysterious head of the institute. Never mind, Diana's sister, who looks just like Diana--and yet is nothing like her--has moved in. And on the recommendation of the dog trainer, Lucio acquires an adoring German shepherd, also named Diana. Then one glorious day, Diana returns, affectionate and pleasant. She's been cured --but have the doctors at the institute gone too far?
"Asleep in the Sun" is the great work of the Argentine master Adolfo Bioy Casares's later years. Like his legendary "Invention of Morel," it is an intoxicating mixture of fantasy, sly humor, and menace. Whether read as a fable of modern politics, a meditation on the elusive parameters of the self, or a most unusual love story, Bioy's book is an almost scarily perfect comic turn, as well as a pure delight.
About the Author


Having translated Manuel Puig, Julio Cortazar, Adolfo Bioy Casares, Guillermo Cabrera Infante, and other notable authors, Suzanne Jill Levine is one of the most highly regarded translators of contemporary Latin American literature. She is a professor of Spanish and Portuguese at the University of California at Santa Barbara, and the author of The Subversive Scribe: Translating Latin American Fiction.

Jim Sallis has published fifteen novels, including the Lew Griffin series, Others of My Kind, Death Will Have Your Eyes, and Drive. Drive was adapted for film and released in 2011. He also published the standard biography of Chester Himes, a translation of Raymond Queneau's novel, Saint Glinglin, and multiple collections of essays and stories. He has three collections of poems: Sorrow's Kitchen, Rain's Eagerness, and now BLACK NIGHT'S GONNA CATCH ME HERE: NEW AND SELECTED POEMS (New Rivers Press, 2015). Born in Helena, Arkansas, Sallis spent his childhood on the banks of the Mississippi River and then attended Tulane University in New Orleans, where he first began to sell his writing. He subsequently moved to Iowa and then to London, where he wrote much of his first book of prose and poetry, A Few Last Words. Sallis has lived in New York City, Boston, Paris, Pennsylvania, and Texas. At present he lives in Phoenix, Arizona.
Praise For Asleep in the Sun…
"A sweet, increasingly surreal fable….The fantastic events seem less momentous than the almost saintly likeableness of Lucio, one of those people whom things happen to with a cockeyed vengeance. Levine's slangy, salt-of-the-earth translation helps to make this shapely and appealing."
— Kirkus Reviews

"Its broader themes of compatibility and well-being, and man's attachment to place and routine, connect it with such older twentieth-century masterworks as Mann's The Magic Mountain."
— Choice

"A witty and ironic comment on our desires and the social structures we have created. This tale…weds laughter and terror in haunting fashion."
— Publishers Weekly