Hons and Rebels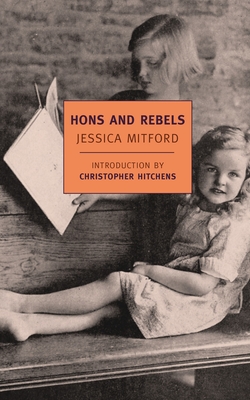 Hons and Rebels
New York Review of Books, Paperback, 9781590171103, 284pp.
Publication Date: September 30, 2004
* Individual store prices may vary.
Buy at Local Store
Enter your zip code below to purchase from an indie close to you.
or
Buy Here
Description
Jessica Mitford, the great muckraking journalist, was part of a legendary English aristocratic family. Her sisters included Nancy, doyenne of the 1920s London smart set and a noted novelist and biographer; Diana, wife to the English fascist chief Sir Oswald Mosley; Unity, who fell head over in heels in love with Hitler; and Deborah, later the Duchess of Devonshire. Jessica swung left and moved to America, where she took part in the civil rights movement and wrote her classic expose of the undertaking business, "The American Way of Death."
"Hons and Rebels" is the hugely entertaining tale of Mitford's upbringing, which was, as she dryly remarks, not exactly conventional. . . Debo spent silent hours in the chicken house learning to do an exact imitation of the look of pained concentration that comes over a hen's face when it is laying an egg. . . . Unity and I made up a complete language called Boudledidge, unintelligible to any but ourselves, in which we translated various dirty songs (for safe singing in front of the grown-ups). But Mitford found her family's world as smothering as it was singular and, determined to escape it, she eloped with Esmond Romilly, Churchill's nephew, to go fight in the Spanish Civil War. The ensuing scandal, in which a British destroyer was dispatched to recover the two truants, inspires some of Mitford's funniest, and most pointed, pages.
A family portrait, a tale of youthful folly and high-spirited adventure, a study in social history, a love story, "Hons and Rebels" is a delightful contribution to the autobiographer's art.
About the Author
Jessica Mitford is also the author of" Hons and Rebels "(previously published as "Daughters and Rebels")," The American Way of Death, The Trial of Dr. Spock, Kind and Usual Punishment, A Fine Old Conflict, Poison Penmanship," "Faces of Philip: A Memoir of Philip Toynbee, Grace Had an English Heart, "and "The American Way of Birth. "Until her death in 1996, she lived in Oakland, California, with her husband, labor lawyer Robert Treuhaft.
Peter Y. Sussman was an award-winning editor at the "San Francisco Chronicle" from 1964 to 1993 and has written, edited, taught, and lectured widely since then. He is the coauthor of "Committing Journalism "and was a coauthor of the Society of Professional Journalists' Code of Ethics. He lives in Berkeley, California.

Christopher Hitchens (1949-2011) is the author of God Is Not Great, Hitch-22, and Why Orwell Matters.
Praise For Hons and Rebels…
"More than an extremely amusing autobiography…she has evoked a whole generation. Her book is full of the music of time."
— Sunday Times

"Stunning. Reads like extravagantly mannered fiction, except that it is all fabulously true…Miss Mitford is at once touching and wildly funny, and there is not one of her highly coloured characters that is not violently alive and uncomfortably kicking."
— Tatler

"…the story of Jessica Mitford's struggles makes tumultous and rewarding reading, and I recommend it heartily."
— Elizabeth Janeway, The New York Times

"[Mitford] has a most unusual talent for recapturing the past….There is a feeling of immediacy, as if it were all being written on the spot, at the time, by the teen-ager it was happening to. It is a fascinating book."
— New York Herald Tribune

"The admitted 'rich vein of lunacy' in the Mitford family apparently has done nothing to dim the brilliance of its members among whom Jessica must be included. Although there's a strong undercurrent of seriousness throughout the book, it's submerged under downright hilariousness, crackling brash humor and enchanting turns-of-the-phrase."
— San Francisco Chronicle

"Jessica Mitford (the fifth of the Mitford daughters) has brought a whole generation back to life in her autobiography….She tells the whole story of her rebellion…with engaging frankness and a spirited, often humorous, enthusiasm." — Richard McLaughlin, Springfield Republican

"Jessica tells her tale with girlish gush, brilliantly preserved a generation after the events…"
— Time