Now They Tell Us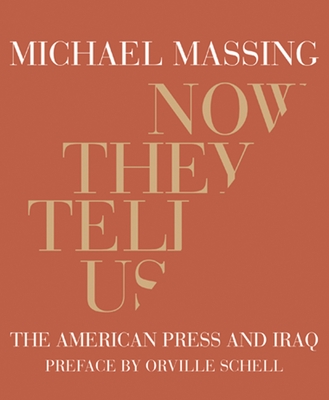 Now They Tell Us
New York Review of Books, Paperback, 9781590171295, 91pp.
Publication Date: August 31, 2004
* Individual store prices may vary.
Buy at Local Store
Enter your zip code below to purchase from an indie close to you.
or
Not Currently Available for Direct Purchase
Description
Michael Massing describes the American press coverage of the war in Iraq as "the unseen war," an ironic reference given the number of reporters in Iraq and in Doha, Qatar, the location of the Coalition Media Center with its $250,000 stage set. He argues that a combination of self-censorship, lack of real information given by the military at briefings, boosterism, and a small number of reporters familiar with Iraq and fluent in Arabic deprived the American public of reliable information while the war was going on.
Massing also is highly critical of American press coverage of the Bush administration's case for war prior to the invasion of Iraq:
"US journalists were far too reliant on sources sympathetic to the administration. Those with dissenting views—and there were more than a few—were shut out. Reflecting this, the coverage was highly deferential to the White House. This was especially apparent on the issue of Iraq's weapons of mass destruction .... Despite abundant evidence of the administration's brazen misuse of intelligence in this matter, the press repeatedly let officials get away with it."
Once Iraq was occupied and no WMDs were found, the press was quick to report on the flaws of pre-war intelligence. But as Massing's detailed analysis demonstrates, pre-war journalism was also deeply flawed, as too many reporters failed to independently evaluate administration claims about Saddam's weapons programs or the inspection process. The press's postwar "feistiness" stands in sharp contrast to its "submissiveness" and "meekness" before the war—when it might have made a difference.
About the Author
Michael Massing is a contributing editor of the "Columbia Journalism Review" and a frequent contributor to the "New York Review of Books". Named a MacArthur Fellow in 1992, he has been reporting on the drug world for the last ten years. His articles have appeared in the "New York Times, "the "New Yorker, "the" Atlantic Monthly, " and many other publications.

James Whitlow Delano is a photographer who has contributed to "Harper's," "Interview," "Outside," "Time," and "Travel & Leisure," He is the recipient of the 2000 Alfred Eisenstaedt Award. Orville Schell is the dean of the school of journalism of the University of California-Berkeley. He is the author of "Virtual Tibet" and the editor of "The China Reader," He lives in Berkeley, California. Colin Jacobson heads the MA photography program at Falmouth College of Arts, Cornwall. He has written widely on contemporary photography.

Praise For Now They Tell Us…
"Together Massing and Schell make a compelling case that the American press—especially The New York Times—failed miserably in carrying out its responsibility to investigate the credibility of press releases from the Bush administration concerning the threat of Saddam Hussein, his non-existent weapons of mass destruction, and the conduct of the war in Iraq."
— Sunbury Daily Item