Jenny Goes to Sea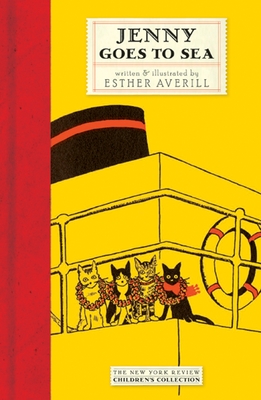 Jenny Goes to Sea
New York Review of Books, Hardcover, 9781590171554, 126pp.
Publication Date: June 30, 2005
* Individual store prices may vary.
Buy at Local Store
Enter your zip code below to purchase from an indie close to you.
or
Not Currently Available for Direct Purchase
Description
In Jenny Goes to Sea, our heroine makes her passage on the good ship Sea Queen with her master, Captain Tinker, and her adopted brothers, tiger cat Edward, and black-and-white cat Checkers. Once on board, they meet the adventurous ship's cat, Jack Tar. Leaving New York's harbor, the friends travel to Africa and Asia, and return through the Panama Canal. At each port they meet a colorful local cat who shows them around. Jenny and her pals have their fortunes told by an Abyssinian cat in Zanzibar; dance the sailor's hornpipe with Bobo the Burmese, another ship's cat who was left behind, in Singapore; and float with Siamese cat Dara in a sampan boat on a Bangkok river--a truly exotic adventure. Ages 6 & up.
About the Author
Esther Averill (1902-1992) began her career as a storyteller drawing cartoons for her local newspaper. After graduating from Vassar College in 1923, she moved first to New York City and then to Paris, where she founded her own publishing company. The Domino Press introduced American readers to artists from all over the world, including Feodor Rojankovsky, who later won a Caldecott Award. In 1941, Esther Averill returned to the United States and found a job in the New York Public Library while continuing her work as a publisher. She wrote her first book about the red-scarfed, mild-mannered cat Jenny Linsky in 1944, modeling its heroine on her own shy cat. Esther Averill would eventually write twelve more tales about Miss Linsky and her friends (including the I Can Read Book, The Fire Cat), each of which was eagerly awaited by children all over the United States (and their parents, too).
Praise For Jenny Goes to Sea…
"We never can get enough of Jenny, one of our favorite literary cats. She has style, verve, and the gentlest way of having a good time.  We welcome heartily the account of her trip around the world." —New York Herald Tribune

"Part of what makes Jenny so appealing is that her emotional trials and triumphs mirror those of the preschool and school-age set as they work to behave, to make and keep friends, or to adjust to the arrival of a new sibling....The other part is that although the cats are in many ways anthropomorphized, Averill's details are careful and concrete. For example, the cats talk among themselves and can ice skate and dance and drive, but they must communicate with humans like any ordinary cat, by rubbing against their legs or looking beseechingly into their eyes." —Orlando Sentinel