Jejuri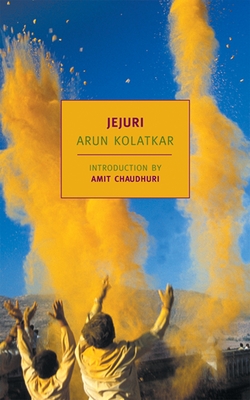 Jejuri
New York Review of Books, Paperback, 9781590171639, 57pp.
Publication Date: November 1, 2005
* Individual store prices may vary.
Buy at Local Store
Enter your zip code below to purchase from an indie close to you.
or
Buy Here
Description
A sequence of stunningly simple but haunting poems, Jejuri is one of the great books of modern India. Jejuri is a site of pilgramage in author Arun Kolatkar's native state of Maharashtra, and Jejuri the poem is the record of a visit to the town -- a place that is as crassly commercial as it is holy, as modern and ruinous as it is ancient and enduring. Evoking the town's crowded streets, many shrines, and mythic history of sages and gods, Kolatkar's poem offers a rich description of India while at the same time performing a complex act of devotion. For the essence of the poem is a spiritual quest, the effort to find the divine trace in a degenerate world. Spare, comic, sorrowful, singing, Jejuri is the work of a writer with a unique and visionary voice.
Praise For Jejuri…
"Available for the first time outside Kolatkar's native India, this sequence of poems (written in English, and first published in 1976) describes a trip to a Hindu pilgrimage site in the state of Maharashtra. Amit Chaudhuri's excellent introduction tells us that Kolatkar was both an amateur musician and a successful art director in the Bombay advertising world, which perhaps explains the acuteness of his ear and eye. Veering between the epigrammatic and the incantatory, these poems capture a place that is both ancient and modern, with crumbling temples and "stock exchange quotations." Kolatkar's pages are populated by saints, beggars, prostitutes, and priests, by rats, stray dogs, and the occasional butterfly, a creature whose transitory beauty is meticulously described: "There is no story behind it. / It is split like a second. / It hinges around itself." -- The New Yorker

"Kolatkar (1932–2004) became a leading literary light in India, writing in Marathi and in English about the contradictions of the developing subcontinent. Composed in English, this fastidious, ironic lyric cycle helped make Kolatkar a national, if not international, star when published in India in 1974. Its impressionistic and anecdotal poems describe a visit to the town of the book's title, a Hindu pilgrimage site in Maharashtra state where ancient stones and holy men coexist with modern consumer culture and media, with their "slashed editorials/ and promises of eternal youth." Some poems retell (or undermine) local legends; others simply describe, using everything from jumbled typography to songlike stanzas to depict the site's disjunctions. There are no notes to explain place-specific references. And Kolatkar's techniques, like those of many British poets, may strike American readers as understated—simultaneously casual and terse: "I killed my mother/ for her skin./ I must say/ it didn't take much/ to make this pouch/ I keep turmeric in." Kolatkar's technical assurance and variety, and his decidedly vivid townscapes, however, ought to compel new readers on their own." --Publishers Weekly

"Jejuri, Arun Kolatkar's sprightly, clear-sighted, deeply felt poem cycle, is widely recognized in India as a modern classic. I am delighted that this invaluable new edition makes Kolatkar's work available to an international readership. It is one of the great treasures of mosern Indian literature." --Salman Rushdie

"Arun Kolatkar was the greatest Indian poet of his generation, and Jejuri, with its linguistic inventiveness and intellctual daring, was his masterwork." -- Pankaj Mishra

"A personal epic like William Carlos William's Paterson. It dramatizes a Jungian passage to contemporary Hinduism, symbolized by the shrine at Jejuri...Jejuri -- a virtuoso performance -- exemplifies a movement towards a freer form of verse, which is what is most promising in Kolatkar's poetry." -- K. Venkatachari