English, August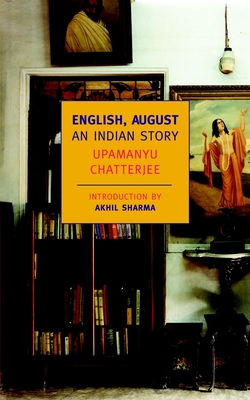 English, August
An Indian Story
New York Review of Books, Paperback, 9781590171790, 336pp.
Publication Date: April 4, 2006
* Individual store prices may vary.
Buy at Local Store
Enter your zip code below to purchase from an indie close to you.
or
Not Currently Available for Direct Purchase
Description
Agastya Sen, known to friends by the English name August, is a child of the Indian elite. His friends go to Yale and Harvard. August himself has just landed a prize government job. The job takes him to Madna, "the hottest town in India," deep in the sticks. There he finds himself surrounded by incompetents and cranks, time wasters, bureaucrats, and crazies. What to do? Get stoned, shirk work, collapse in the heat, stare at the ceiling. Dealing with the locals turns out to be a lot easier for August than living with himself." English, August "is a comic masterpiece from contemporary India. Like "A Confederacy of Dunces" and "The Catcher in the Rye," it is both an inspired and hilarious satire and a timeless story of self-discovery.
About the Author
Upamanyu Chatterjee was born in 1959. He joined the Indian Administrative Service in 1983. His published works include short stories and the novels English, August: An Indian Story (1988), The Last Burden (1993), The Mammaries of the Welfare State (2000), which won the Sahitya Akademi Award for writing in English, Weight Loss (2006) and Way to Go (2011), which was shortlisted for the Hindu Best Fiction Award. In 2008, he was awarded the Order of Officier des Arts et des Lettres by the French Government for his contribution to literature.

Akhil Sharma is the author of An Obedient Father, winner of the PEN/Hemingway Award and was a New York Times Notable Book of the Year. His writing has appeared in The New Yorker, The Atlantic, Best American Short Stories, and O. Henry Award Stories. A native of Delhi, he lives in New York City and is an assistant professor of English at Rutgers University, Newark.
Praise For English, August…
An "affectionate yet unsparing slacker view of modern IndiaÉlikened to John Kennedy Toole's A Confederacy of Dunces and J.D. Salinger's The Catcher in the Rye Unlike many of the other Indian writers we read these days, Chatterjee has remained in India...He's a writer worth discovering, and English, August is the place to start."–Michael Dirda, The Washington Post

"This is a very funny novel, but a humane one as well."–Katherine Powers, The Boston Globe

"Chatterjee offers…a funny, intimate portrait of one person puzzling over his place in the world…"–Julia Hanna, The Boston Phoenix

A "witty and lyrical first novel…it is hard to believe that it has taken this book so long to reach American readers, but once they finish it, they will agree it was well worth the wait. A contribution not just to Indian literature but to world literature; highly recommended."–Library Journal * Stared Review

"English, August is one of the most important novels in Indian writing in English, but not for the usual reasons. Indeed, it's at war with 'importance,' and is one of the few Indian English novels in the last two decades genuinely, and wonderfully, impelled by irreverence and aimlessness. It's this acutely intelligent conflation of self-discovery with the puncturing of solemnity that makes this book not only a significant work, but a much-loved one." –Amit Chaudhuri

"A slacker seeks career success and sexual fulfillment in Chatterjee's 1988 first novel, since proclaimed a contemporary Indian classic…This beautifully written book strikes a nifty balance among satiric comedy, pointed social commentary and penetrating characterization. Widely considered India's Catcher in the Rye, it also echoes both R.K. Narayan's Malgudi novels and J.P. Donleavy's classic portrayal of rampant, unrepentant maleness, The Ginger Man…Excellent stuff. Let's have Chatterjee's other novels, please." –Kirkus Reviews

"The 'Indianest' novel in English that I know of. Utterly uncompromised, wildly funny, and a revelation of everyday life in modern India." — Suketu Mehta

"…Chatterjee, himself an IAS officer, creates a comic, entertaining portrayal of an administrator's life in the sticks." –Publishers Weekly

"…a remarkably mature first novel" –The Times Literary Supplement

"There's a popular conception that Indian fiction in English hit the road to big time with Upamanyu Chatterjee's English, August in 1988. The irreverent language, the wry humour and the immediately identifiable situations struck a chord with a generation of Indians which was looking for its own voice and found it in Agastya Sen." – The Sunday Express

"[an] elegant and gently mischievous satire" –The London Observer

"By the highest serio-comic standards, this novel marks the debut of an extraordinarily promising talent." —The Observer

"Beautifully written…English, August is a marvelously intelligent and entertaining novel, and especially for anyone curious about modern India." –Punch

"A jazzy, baggy, hyperbolic, comic and crazy clamour of voices which…brings a breath of fresh talent to Indian fiction." –Glasgow Herald

"…when New York Review Books Classics publishes Upamanyu Chatterjee's 1988 debut novel, English, August, for the first time in the U.S., Americans will finally have the chance to be in on what readers in England and India have known for years: that the great outpouring of Indian lit over the past decade and a half owes as much to this irreverent, acid-witted book as it does to Salman Rushdie's magnum opus, Midnight's Children…A best-seller in India (and later a hit film), English, August struck a chord with a generation of young writers wrestling with the messy sprawl of modern South Asia…English, August is more than a satire. It's also a novel with resonating concerns about the meaning of maturity in the modern era. …American readers should identify with the brainy, sarcastic and slightly confused protagonist of English, August as he struggles to find a purpose in a rapidly changing world."–Time Out New York