Memoirs of Montparnasse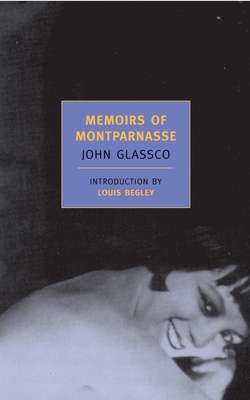 Memoirs of Montparnasse
New York Review of Books, Paperback, 9781590171844, 236pp.
Publication Date: May 29, 2007
* Individual store prices may vary.
Buy at Local Store
Enter your zip code below to purchase from an indie close to you.
or
Buy Here
Description
"Memoirs of Montparnasse" is a delicious book about being young, restless, reckless, and without cares. It is also the best and liveliest of the many chronicles of 1920s Paris and the exploits of the lost generation. In 1928, nineteen-year-old John Glassco escaped Montreal and his overbearing father for the wilder shores of Montparnasse. He remained there until his money ran out and his health collapsed, and he enjoyed every minute of his stay. Remarkable for their candor and humor, Glassco's memoirs have the daft logic of a wild but utterly absorbing adventure, a tale of desire set free that is only faintly shadowed by sadness at the inevitable passage of time.
About the Author
John Glassco came from an established Montreal family, and lived the better part of his life near the village of Foster in the Eastern Townships of Quebec. He was a distinguished poet, novelist, essayist and translator - the Glassco prize for translation was named after him. His works include the widely acclaimed "Memoirs of Montparnasse" (1970), "A Point of Sky" (1964), "The Fatal Woman" (1974) and "Selected Poems" (1971) for which he won the Governor General's Award.

Born in Poland in 1933, Louis Begley is the author of many novels, including Wartime Lies, About Schmidt and Shipwreck. His wife of thirty years, biographer Anka Muhlstein is the author of La Salle: Explorer of the North American Frontier and, most recently, A Taste for Freedom: The Life of Astolphe de Custine. They live in New York.
Praise For Memoirs of Montparnasse…
"It's wonderful to see John Glassco's charming Memoirs of Montparnasse getting the international recognition it deserves. Like its author -- whom I knew quite well in the 1960s -- the book is a loveable and eccentric rogue, fond of style and up to mischief. It never fails to entertain." -- Margaret Atwood

"Memoirs of Montparnasse is one of the most joyous books on youth -- the thrill and the gall and the adventure of it. It is also one of the best books on being in literary Paris in the 1920s." --Michael Ondaatje

"[Memoirs of Montparnasse] should be read and at last recognized as the most dramatic of the many narratives dealing with Paris in the 1920's." --The New York Times

"The title calls to mind a whole genre of books...But Glassco's book, published from a manuscript nearly forty years old, is fresher and truer to the moment than the others, as well as being more novelistic and, in a sense, legendary."--The New Republic

"A very good book, perhaps a great book." --The Washington Star

"The best book of prose by a Canadian that I've ever read." --Montreal Gazette

"This is a delightful, on-the-spot report of the days when it was still possible to be very young, very hip and very happy all at the same time...this precious, witty document from a long-vanished younger generation has both the freshness and remoteness of some ornate space ship found intact in a forgotten tomb." --The New York Times