Bel Ria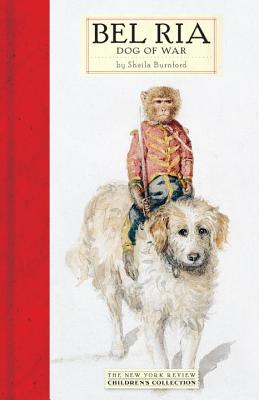 Bel Ria
Dog of War
New York Review of Books, Hardcover, 9781590172117, 215pp.
Publication Date: November 28, 2006
* Individual store prices may vary.
Buy at Local Store
Enter your zip code below to purchase from an indie close to you.
or
Not Currently Available for Direct Purchase
Description
Sheila Burnford, the author of The Incredible Journey, offers the spellbinding tale of a small dog caught up in the Second World War, and of the extraordinary life-transforming attachments he forms with the people he encounters in the course of a perilous passage from occupied France to besieged England.

Nameless, Burnford's hero first turns up as a performing dog, a poodle mix earning his keep as part of a gypsy caravan that is desperately fleeing the Nazi advance. Taken on ship by the Royal Navy, he is given the name of Ria and serves as the scruffy mascot to a boatload of sailors. Marooned in England in the midst of the Blitz, Ria rescues an old woman from the rubble of her bombed house, and finds himself unexpectedly transformed into Bel, the coiffed and pampered companion of her old age.

Bel Ria is an exciting story about a compellingly real, completely believable dog. Readers of all sorts and ages will find in Bel Ria a companion to take to heart.
About the Author
SHEILA BURNFORD (1918--1984), a Scottish-born Canadian author, wrote books of fiction and nonfiction for both children and adults. In World War II she was an ambulance driver. Her most famous work was the children's classic "The Incredible Journey."
Praise For Bel Ria…
"If you love animals in general, dogs in particular, and good stories about them, you will rejoice in Sheila Burnford's novel Bel Ria…The scenes of war, both on land and sea, are as beautifully done as the rest, with a considerable cast of appealing human characters also. There is a special poignancy to animals in wartime, particularly those not involved in military uses, that not only makes us vibrate to them but points up the human folly, tragedy, and gallantry…With unerring touch, Mrs. Burnford draws the threads of people and animals together in resolution, by instinct as sound as that which once guided Homer in such a matter. Bel Ria is a magical story; Mrs. Burnford has benevolent witchery."–The Wall Street Journal

"The Bel Ria can't help but become another classic…Sheila Burnford has written a beautiful, moving story, woven from many fine threads. I can't recommend it highly enough for readers from 12 to 90."
–The Philadelphia Inquirer

"A magical, enchanting tale."–Cosmo Magazine

"The reader will…long remember the little dog dancing to bells and flute, responding to cryptic signals from the cryptic old crone, straining mind and body to earn the cryptic reward of love."–The Washington Post

"The author's descriptions of war are consistently sharp and the texture of her prose is life-like in the extreme."–The Christian Science Monitor