The Enchanted April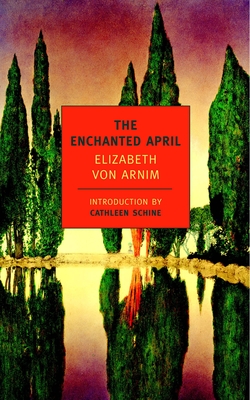 The Enchanted April
New York Review of Books, Paperback, 9781590172254, 247pp.
Publication Date: April 3, 2007
* Individual store prices may vary.
Buy at Local Store
Enter your zip code below to purchase from an indie close to you.
or
Buy Here
Description
A recipe for happiness: four women, one medieval Italian castle, plenty of wisteria, and solitude as needed.
The women at the center of "The Enchanted April "are alike only in their dissatisfaction with their everyday lives. They find each other and the castle of their dreams through a classified ad in a London newspaper one rainy February afternoon. The ladies expect a pleasant holiday, but they don t anticipate that the month they spend in Portofino will reintroduce them to their true natures and reacquaint them with joy. Now, if the same transformation can be worked on their husbands and lovers, the enchantment will be complete.
"The Enchanted April" was a best-seller in both England and the United States, where it was a Book-of-the-Month Club selection, and set off a craze for tourism to Portofino. More recently, the novel has been the inspiration for a major film and a Broadway play.
About the Author
A greatly admired literary figure of her time, Elizabeth von Arnim was born in 1866 and brought up in England. Her 1922 work, "The Enchanted April", (inspired by a month-long holiday to the Italian Riviera), is perhaps her best known work. It has been credited with making the Italian resort of Portofino fashionable. Von Arnim spent later years in Switzerland, the French Riviera and America, where she died in 1941.

Cathleen Schine is the author of "The Three Weissmanns of Westport", To "the Birdhouse", "The New Yorkers", and "The Love Letter", among other novels. She has contributed to "The New Yorker, The New York Review of Books, The New York Times Magazine", and "The New York Times Book Review". She grew up in Westport, Connecticut, and lives in New York City and Venice, California.
Praise For The Enchanted April…
"A pleasant...little story, with some neat phrasing and a genuine feeling for color and for beauty."--The New York Times

"The Enchanted April sounds as if it would be an appallingly cloying cream puff of a fairy tale, but that would be to ignore that the author habitually kept a pot of lemon juice mixed with vinegar beside her ink-pot. With this bracing element there is additionally what can only be called a feast of flowers, hanging from every wall and pouring scent over the company."--Times Literary Supplement

"[A]n expression of the propensity of people to be blind to the real secret of happiness, and that it showed how exquisitely men and women get upon each others' nerves and how they suffer from each others' egos."--National Review

"...extraordinarily well written...it is witty, human, often very beautiful."--Punch

"[A] comedy of absolutely flawless mirth...a very beautiful...and touching book."--Chris Morley

"[A] restful, funny, sumptuous, and invigorating vacation for the mind and soul." --500 Great Books By Women