The Dud Avocado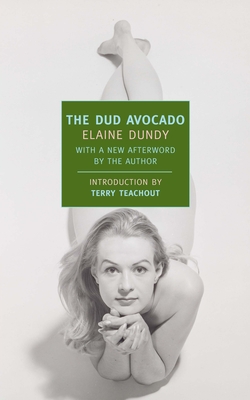 The Dud Avocado
New York Review of Books, Paperback, 9781590172322, 260pp.
Publication Date: June 5, 2007
* Individual store prices may vary.
Buy at Local Store
Enter your zip code below to purchase from an indie close to you.
or
Buy Here
Description
"The Dud Avocado "follows the romantic and comedic adventures of a young American who heads overseas to conquer Paris in the late 1950s. Edith Wharton and Henry James wrote about the American girl abroad, but it was Elaine Dundy's Sally Jay Gorce who told us what she was really thinking. Charming, sexy, and hilarious, "The Dud Avocado" gained instant cult status when it was first published and it remains a timeless portrait of a woman hell-bent on living.
I had to tell someone how much I enjoyed "The Dud Avocado." It made me laugh, scream, and guffaw (which, incidentally, is a great name for a law firm). Groucho Marx
" "The Dud Avocado"] is one of the best novels about growing up fast..." "-The Guardian.
About the Author
Elaine Dundy was born in New York City and attended Sweet Briar College. At the end of World War II, she traveled to Europe, living in Paris before settling in London. In 1951, Dundy married the theater critic Kenneth Tynan. A novelist and writer for the BBC's satirical "That Was the Week That Was," she also composed plays and wrote biographies, including "Finch, Bloody Finch: A Biography of Peter Finch "and "Elvis and Gladys," A resident of Los Angeles, her most recent book is her autobiography, "Life Itself!"

Terry Teachout is a member of the editorial board of the New York "Daily News". His writing appears in "The American Scholar, Commentary, High Fidelity, Musical America, National Review, The New Criterion, The New Dance Review, and The Wall Street Journal."
Praise For The Dud Avocado…
"Basically, if you were to set Henry James' Portrait of a Lady near the Sorbonne, untangle the sentences and add more slapstick, sex and champagne cocktails, you're getting close." - Rosecrans Baldwin, NPR's "All Things Considered"

"Already singled out in O the Oprah Magazine and named an Amazon.com 'mover and shaker,' this edition will...introduce a new readership to the unforgettable Sally Jay Gorce, described by one reviewer as a cross between Carrie Bradshaw and Holden Caulfield." --Los Angeles Times
"Before Bridget Jones, deeply sweet and recklessly intimate Sally Jay Gorce trolled for love (Parisian style) in novelist (and sometime wife of theater critic Kenneth Tynan) Elaine Dundy's The Dud Avocado, a madcap read from 1958 that's finally back in print in the United States." --O Magazine
"The Dud Avocado follows a charming, if blundering, 21-year-old Missouri native, Sally Jay Gorce, who spends two postcollege years sipping Pernod on "la plus belle avenue du monde," the Champs-Élysées; staging William Saroyan and Tennessee Williams with an American theater troupe, and fumbling terribly at love." --The New York Sun
"Think Daisy Miller with a dash of Fear of Flying; My Sister Eileen with a soupçon of Sex and the City; Anita Loos crossed with Allen Ginsberg." --The Philadelphia Inquirer
"Now, this favorite has been re-issued yet again, with a gorgeous black and white nude on the cover. Fair enough, for here is a book primarily about sex and style...few writers ever soared so high and so delightfully." --Los Angeles Times
"The Dud Avocado opens with our beautiful and hapless heroine--imagine the panache of Holly Golightly crossed with the naive knowingness of Holden Caulfield--wandering one September morning through Paris in an evening dress." --Boston Globe
"Elaine Dundy's semi-autobiographical novel The Dud Avocado, which follows the romantic escapades of Sally Jay Gorce--an irrepressible young woman seeking adventure in '50s Paris--contains a lot of what makes fiction fun: charm, wit, and devastatingly sharp insights." --Very Short List
"The gayest and most cheerful novel about Americans in Paris I have read...a dazzling performance--as light as a champagne bubble, as continuously attention-getting as a juggler keeping seven swords in the air at the same time." --The New York Times
"Take one zippy, curious, 21-year-old American named Sally Jay, just out of college. Drop her in the middle of Paris' Left Bank. Add an Italian diplomat, an American theatrical director , a couple of painters and a white slave trader. Mix until all bubbles. The result: a delightful few hours of sparkling reading entertainment. Summing up: Froth and frolic." --Newsweek
"Delightful...her portrait of the Left Bank expatriates is caustically funny." --Time
"A champagne cockail...rich, invigorating, and deceptively simple to the taste...One falls for Sally Jay from a great height from the first sentence." --The Observer
"A first-rate reporter, [Dundy] has made The Dud Avocado into a Baedeker of neo-Bohemiahe...the atmosphere of a French student café; the folkways of hobohemia; the accents of the International Set-all these Miss Dundy has captured with sill and a degree of wit." --The New York Times Book Review
"A cheerfully uninhibited...variation on the theme of the Innocents Abroad...Miss Dundy comes up with fresh and spirited comedy...Her novel is enormous fun-sparklingly written, genuinely youthful in spirit, and exquisitely gay." --The Atlantic
"Elaine Dundy writes a sprightly novel to bring us up to date on the American girl from across the street who goes to Paris looking for Life and Love. Her book is sad and tender, bubbling with fun, spiced with insight...The Dud Avocado is satiric, mostly true, and decidedly sexy...The writing is sharp." --New York Herald Tribune
"[W]itticisms that crackle from every page." --Indianapolis Star
"One of the funniest books I've ever read; it should be subtitled Daisy Miller's Revenge." --Gore Vidal