Memoirs of an Anti-Semite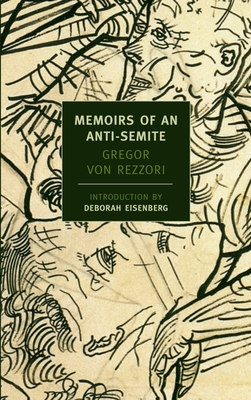 Memoirs of an Anti-Semite
A Novel in Five Stories
New York Review of Books, Paperback, 9781590172469, 287pp.
Publication Date: December 4, 2007
* Individual store prices may vary.
Buy at Local Store
Enter your zip code below to purchase from an indie close to you.
or
Buy Here
Description
The elusive narrator of this beautifully written, complex, and powerfully disconcerting novel is the scion of a decayed aristocratic family from the farther reaches of the defunct Austro-Hungarian Empire. In five psychologically fraught episodes, he revisits his past, from adolescence to middle age, a period that coincides with the twentieth-century's ugliest years. Central to each episode is what might be called the narrator's Jewish Question. He is no Nazi. To the contrary, he is apolitical, accommodating, cosmopolitan. He has Jewish friends and Jewish lovers, and their Jewishness is a matter of abiding fascination to him. His deepest and most defining relationship may even be the strange dance of attraction and repulsion that throughout his life he has conducted with this forbidden, desired, inescapable, imaginary Jewish other. And yet it is just his relationship that has blinded him to and makes him complicit in the terrible realities his era.
Lyrical, witty, satirical, and unblinking, Gregor von Rezzori's most controversial work is an intimate foray into the emotional underworld of modern European history.
About the Author
Gregor von Rezzori (1914 1998) studied at the University of Vienna and for a time lived in Bucharest. In Germany, after World War II, he became active as a writer and in radio broadcasting and filmmaking activities. American readers first discovered is writing in English with the appearance of his story, "Troth," in The New Yorker. Mr. Rezzori's books include Tales from Maghrebinia, Oedipus Triumphs at Stalingrad, The Hussar, The Snows of Yesteryear, The Death of My Brother Abel, and Anecdotage. He lived with his wife in a village near Florence, Italy until his death. Deborah Eisenberg is the author of three collections of short stories and the recipient of a Guggenheim fellowship, the Rea Award, and three O. Henry Awards. She lives in New York City. Translated by Joachim Neugroschel and the author"
Praise For Memoirs of an Anti-Semite…
"Rezzori has a remarkable lyric gift that he uses to describe the wide expanses of Bukovina. In a series of beautiful set pieces, he evokes the vanishing world of Germanic chivalry, already in its last stages of degeneration into the debased kitsch that the Nazis would exploit, the emerging commercial melee of post-war Bucharest with its Armenian and Jewish shopkeepers and its red light district; and shabby-genteel Vienna, where he socializes almost exclusively with Jewish artists and musicians." --NextBook

"In his remarkable Memoirs of an Anti-Semite: A Novel in Five Stories...von Rezzori brought his lost homeland back to life so sharply and in such pungent detail that we feel from the first sentences as though we have lived there ourselves...For all its poignancy, Memoirs is no foray into nostalgia but a deliberately fragmented, and often quite funny, version of the classic German bildungsroman' — what might be termed the novel of formative influences." -The New York Sun

" A superb and unsettling satirical novel from 1979, in which the cosmopolitan and apolitical narrator exposes the ugliness of 20th-century Europe through his attraction-repulsion obsession with Jews." -Martin Levin, The Globe & Mail

"Gregor von Rezzori, in his newly reissued novel Memoirs of an Anti-Semite, meshes the micro and macro versions of interwar anti-Semitism very skillfully indeed... [a] welcome new edition in the library of classics kept evergreen by The New York Review of Books... Writing as he did from the wreckage of postwar Europe, Gregor von Rezzori could claim the peculiar distinction of being one of the few survivors to treat this ultimate catastrophe in the mild language of understatement. This is what still gives his novel the power to shock." –Christopher Hitchens, The Atlantic

Gregor von Rezzori's "novels and memoirs revealed the tragic sweep of European history through two world wars and beyond." –The New York Times (Michael Kaufmann, Obituary)

"The last great remembrancer of a region that has vanished from the map and mind of Europe." –The New York Review of Books (Michael Ignatieff)

A "rich, disquietingly good book…these stories…are wonderfully intricate in character and texture, studded with observation" –The New York Times (Stanley Kauffmann)

"A literature in which the author envisions himself as a character in a design arranged from the data of his life as another author might arrange items from fictitious notes…He is an artist, devilishly honest, stubborn, the creator and the created of an artwork about a survivor…It is through Mr. von Rezzori's art, rather than through any vanity or apology, that we are enlightened." –The New York Times Book Review (Stanley Kauffmann)

"Here is a work that tackles–without reproof, without illusions, and without shallow moral judgments; by turns, engaged and detached, funny and sad, tender and heartless–the phenomenon of anti-Semitism, and its correlative anti-Goyism, the double tragedy of banal misunderstandings that changed the face of Europe and the world." –Bruce Chatwin

"What we recall…is the breathtaking richness of the history it recounts and the extraordinary way it makes time pass by…Yet it is not alone for the vividness of its settings and characters that we attend to Memoirs of an Anti-Semite. We also savor the sound of the author's voice, an extraordinary blend of bitter self-denigration and sweet recollection. We relish his haunting evocations of twilight…and of course we an never avert our eyes from the dissection of anti-Semitism that keeps going on in the background–a dissection that amounts to an anatomy of Central Europe in the 20th century." –The New York Times (Christopher Lehmann-Haupt)

"The 'I' in these pages–ambitious dreamer, insatiable lover, solitary night-wanderer–achieves more than catharsis: he comes to vivid, full life in the mind of the reader. The gloriously rendered settings…are an opulent banquet table spread for every taste." –Die Welt