Afloat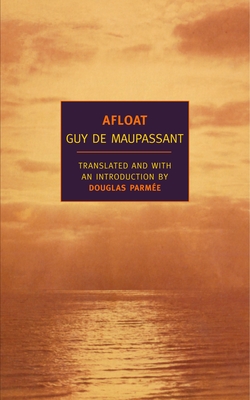 Afloat
New York Review of Books, Paperback, 9781590172599, 105pp.
Publication Date: April 29, 2008
* Individual store prices may vary.
Buy Now
or
Shop Local
Enter your zip code below to purchase from an indie close to you.
Description
Afloat, originally published as Sur l'eau in 1888, is a book of dazzling but treacherously shifting currents, a seemingly simple logbook of a sailing cruise along the French Mediterranean coast that opens up to reveal unexpected depths, as Guy de Maupassant merges fact and fiction, dream and documentation in a wholly original style. Humorous and troubling stories, unreliable confessions, stray reminiscences, and thoughts on life, love, art, nature, and society all find a place in Maupassant's pages, which are, in conception and in effect, so many reflections of the fluid sea on which he finds himself–happily but forever precariously–afloat. Afloat is thus a book that in both content and form courts risk while setting out to chart the meaning, and limits, of freedom, a book that makes itself up as it goes along and in doing so proves as startling and compellingly vital as the paintings of Maupassant's contemporaries van Gogh and Gauguin.
About the Author
de Maupassant was born of upper-middle-class parents in Normandy. He lived with his motehr at Etretat, a newly fashionable seaside resort. Having enrolled as a law student in 1869, he was called up after the outbreak of the Franco-Prussian War in 1870 and served as a quartermaster's clerk in Rouen. Following the war he left the army and eventually secured a post as a minor civil servant.

Guy de Maupassant (1850--1893), after serving in the Franco-Prussian War, became close friends with Flaubert and his circle. He wrote hundreds of short stories as well as novels and verse. In his later years, he suffered from mental illness, and he died in an asylum.
Douglas Parmee has translated works by Flaubert, Zola, Maupassant, Baudelaire, and Chamfort, among others, including the NYRB Classic "The Child" by Jules Valles. He is a past winner of the Society of Authors Scott-Moncrieff Prize for French translation. A lifetime fellow of Queens College, Cambridge, he now lives in Australia.
Praise For Afloat…
"Douglas Parmee's fresh new translation brings to light a book that, more so than any of his renowned short stories, shows Maupassant the man, as he might have been known to contemporary readers of his copious journalism in fin de siecle Paris. Recounting a short week spent yachting on the French Riviera, Maupassant's fictionalized memoir crystallizes the mixed motives that lead to so many of our vacations. He is at once cynical and Romantic; he is a misanthrope who can't get enough of man; he is a sophisticated raconteur who wants to talk to himself for a while." —Benjamin Lytal, The New York Sun

"In this deceptively simple way, he is a heart-stopping writer...like all the best travel books, it embraces reflections on a variety of subjects unconnected with travel...It has spontaneity, gaiety and freshness." —Sara Wheeler, Daily Telegraph

"He describes–very beautifully–what he found essential in his cruise: the wind, the sounds, the odours, the mountains, the islands, and the effect they had on him and on his imagination...He can be compassionated, ecstatic about nature, jaundiced, cynical, arrogant, anguished. His diatribe against war is superb." —Times Literary Supplement

"Along with serious reflections upon the human condition, this journal contains more whimsical wool-gatherings, touches of travelogue, much mischievous social observation on the boating set of the Cote d'Azur, as well as some enthusiastic outpourings upon the sheer joy of sailing. All of it is recorded with the precision you would expect of this master-miniaturist and with an easy sense of fun you might not." —Scotsman

"M. De Maupassant writes thoughts such as were suggested by the rocking of the waves." –The New York Times

"In M. Guy de Maupassant's Afloat, there is a good deal that is graceful and suggestive, besides the strictly descriptive passages, in which the French writer's skill is always noticeable. The book records the indolent pleasures of a summer cruise from Antibes to Monaco in a little yacht, the Bel Ami (a decidedly significant name to persons familiar with M. de Maupassant as a novelist) and pictures of the coast, of smooth and squally days, reflections, philosophical and other, and a hundred pretty trifles of thought and diction are united in it. It is very light and very pleasant reading…" –The Independent [UK]

"M. de Maupassant gives one delightful notes and jottings of a leisurely voyage in a roomy and comfortable yacht, appropriately called the 'Bel-Ami,' along the Riviera coast…the successive papers in the little book are exquisitely enjoyable reading." –The Independent