Alien Hearts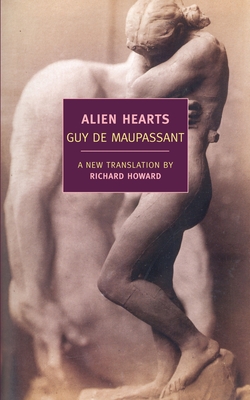 Alien Hearts
New York Review of Books, Paperback, 9781590172605, 177pp.
Publication Date: December 1, 2009
* Individual store prices may vary.
Buy at Local Store
Enter your zip code below to purchase from an indie close to you.
or
Buy Here
Description
"Alien Hearts "was the last book that Guy de Maupassant finished before his death at the early age of forty-three. It is the most original and psychologically penetrating of his several novels, and the one in which he attains a truly tragic perception of the wounded human heart. Andre Mariolle is a rich, handsome, gifted young man who cannot settle on what to do with himself. Madame de Burne, a glacially dazzling beauty, wants Mariolle to attend her exclusive salon for artists, composers, writers, and other intellectuals. At first Mariolle keeps his distance, but then he hits on the solution to all his problems: caring for nothing in particular, he will devote himself to being in love; Madame de Burne will be his everything. Soon lover and beloved are equally lost within a hall of mirrors of their common devising.
Richard Howard's new English translation of this complex and brooding novel--the first in more than a hundred years--reveals the final, unexpected flowering of a great French realist's art.
Praise For Alien Hearts…
"A novel containing such inconceivably beautiful sentences, I would have liked to memorize some. Its psychology sees to the very core of people and, in spite of that, touches them as if with the hand of a kindly old physician." —Walter Benjamin

"Alien Hearts is perhaps the book that one likes Maupassant best for. The author's conception of love has sublimed itself into very nearly the true form of
the Canticles and Shakespeare." —George Saintsbury

"Eminent translator Howard gives a leavened, modern feel to Maupassant's weary tale of a young aristocratic loser infatuated with an on-the-rise Parisian salon hostess." --Publishers Weekly

"Maupassant is the world's most accomplished of narrators." –Joseph Conrad

"[Maupassant] is brilliantly clever." –Henry James

"[Maupassant] is so relentlessly artistic that he puts the fear of philosophy in your heart." –The New York Times

"This is classic Maupassant, beautifully rendered by Howard." –Harper's