Uncle Cleans Up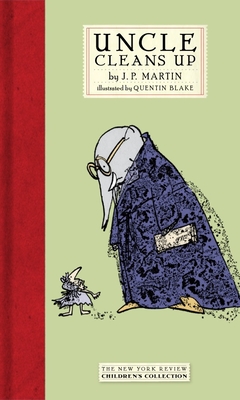 Uncle Cleans Up
New York Review of Books, Hardcover, 9781590172766, 176pp.
Publication Date: June 24, 2008
* Individual store prices may vary.
Buy Now
or
Shop Local
Enter your zip code below to purchase from an indie close to you.
Description
It is a time of rejoicing at Homeward, the Labyrinthine castle-city that is as magical as Oz and as full of wonders as Willy Wonka's chocolate factory. Uncle, the wise, kind, generous, and fabulously rich elephant who rules over Homeward, has joined with his many friends to celebrate their triumph over the ruffians in neighboring Badfort.
Still, there's plenty of cleaning up to do in Homeward: the waterworks are tainted with vinegar, housing is scarce, and the Dwarftown Railway is terribly overcrowded-- meanwhile the Badfort crowd has devised its most diabolical plan yet. Uncle will need all the help he can get from his faithful assistant Old Monkey and from Goodman the literate cat--and possibly a wizard's spell--to get through this mess.
"Uncle Cleans Up" displays the same subversive humor and ingenious plotting as its predecessor, "Uncle," and serves as a no less delightful introduction to J.P. Martin's fantastic world; Quentin Blake's quirky drawings accompany a tale that has been charming children and adults alike for nearly fifty years.
About the Author


Quentin Blake is Children's Laureate of Great Britain, has won the Kate Greenaway Medal, and is the author and/or illustrator of many books. He lives in London, England.
Praise For Uncle Cleans Up…
"And another great animal book: Uncle Cleans Up, about a millionaire elephant who wears a purple dressing gown and reluctantly engages in violent spats with his neighbours. Written in 1965 by JP Martin, a Yorkshire vicar, and illustrated by Quentin Blake, it has been reissued this year by New York Review Children's Collection in a lovely, clothbound edition." --Kate Summerscale, The Guardian

"I've never met a child who didn't love Quentin Blake." –Melanie McDonagh, Daily Telegraph

"The Times Literary Supplement called the books spellbinding'...while the Times Educational Supplement likened the books to Alice in Wonderland...The books contain many of the elements of the best English children's literature. There is the blurring of the line between the human and the animal kingdom, made familiar by Beatrix Potter and A.A. Milne. There is the quirky humor of 'Toad of Toad Hall' or 'Alice'. And the books are illustrated by the wonderful drawings of Quentin Blake." -The Economist

"The books are very funny, installing a large cast of unlikely characters...in a world of mildly squiffy logic...And the illustrations are among Quentin Blake's best work, scrawls and splotches that finally and unarguably distill character. But most important, this is political satire of a high order--Animal Farm for pre-teens, but wittier and more relevant to our own world." -Independent

"Magnificent nonsense." -Chicago Tribune