The Rider on the White Horse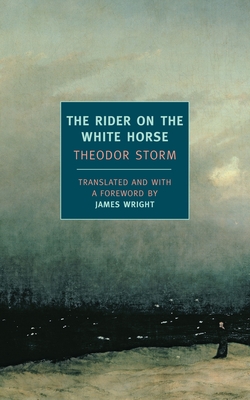 The Rider on the White Horse
And Selected Stories
New York Review of Books, Paperback, 9781590173015, 284pp.
Publication Date: January 27, 2009
* Individual store prices may vary.
Buy at Local Store
Enter your zip code below to purchase from an indie close to you.
or
Buy Here
Description
The Rider on the White Horse begins as a ghost story. A traveler along the coast of the North Sea is caught in dangerously rough weather. Offshore he glimpses a spectral rider rising and plunging in the wind and rain. Taking shelter at an inn, the traveler mentions the apparition, and the local schoolmaster volunteers a story.
The story is both simple and subtle, and its peculiar power is to surprise us slowly. It is a story of determination, of a young man, Hauke Haien, living in a remote community (Storm depicts the village with the luminous precision of a Vermeer), who is out to make a name for himself and to remake his world. It is a story of devotion and disappointment, of pettiness and superstition, of spiritual pride and ultimate desolation, and of the beauty and indifference of the natural world. It is a story that opens up in the end to uncover the foundation of savagery on which human society rests.
Theodor Storm's great novella, which will remind readers of the work of Thomas Hardy, is one of the supreme masterpieces of German literature. It is here limpidly translated by the American poet James Wright, along with seven other shorter works, including the lyrical love story Immensee.
About the Author


Poetry collections by James Wright (1927-80) include "The Green Wall "(1957), which won the Yale Series of Younger Poets award, "Saint Judas" (1959), "The Branch Will Not Break" (1963), "Shall We Gather at the River" (1968), and "Two Citizens" (1973). Wright was elected a fellow of The Academy of American Poets in 1971, and the following year his "Collected Poems" received the Pulitzer Prize. He died in New York City in 1980, having served on the English faculties at the University of Minnesota, Macalester College, and Hunter College (CUNY).

Praise For The Rider on the White Horse…
"Just as most American school children are familiar with Washington Irving's The Legend of Sleepy Hollow , their German counterparts know The Rider on the White Horse . It is a German literary landmark and remains one of the great ghost stories, never to be forgotten and never losing its ability to terrorise. Not because it is obviously creepy, but because its slow, subtle, nuanced telling lingers through a balanced mix of logic and the inevitable...This quiet Frisian who wrote his stories while serving the law is the literary equivalent of the artist Caspar David Friedrich. Storm's melancholy fiction exerts the haunting power of German romanticism as well as an understanding of the choices made and decisions lamented." --Irish Times

" 'German short fiction of the 19th century' may sound like the title for a college course...In fact, the stories of Ludwig Tieck , E.T.A. Hoffmann, and Heinrich von Kleist are among the glories of world literature, being at once suspenseful, eerie and sometimes humorous, albeit usually in a macabre way. Many of these 19th-century Novellen, as they are called, are clearly related to fairy tale and legend. Arguably the greatest of them all is 'The Rider on the White Horse'....While [it] represents Theodor Storm as a writer of prose, he is equally revered as one of Germany's finest lyric poets. So it seems right that the material in this handsome reissue... should have been translated by the poet James Wright, who also contributes a superb introduction." --Michael Dirda, The Washington Post

"Like Theodor Fontane's Effi Briest, Storm's book combines a story of societal pressures with a touch of the supernatural...There is plenty of eerie Germanic mood here, but there is also a fine and tragic story of a man who follows his own path to its final, terrible end and people who fail to recognize sacrifice." –Publishers Weekly

"A new translation of a famous 1888 novella...This is a marvelous work, effortlessly lifted to eerie supernatural heights...Storm's mastery of the details of dyke-building and bourgeois political intrigue ground it firmly in recognizable reality. There is nothing better in German fiction prior to the work of Thomas Mann." –Kirkus Reviews

"Theodor Storm, master of the 19th-century novella." –The Spectator
 
"Written in 1888, the story is set along Germany's North Sea coast which Storm, as a native Schleswig Holsteiner, knew and loved, and is a powerful, tragic tale of man's battle with the elements - in this case, the sea - and of an individual at odds with the narrow society around him. The almost visionary evocation of nature, and the vivid word painting of this region of dykes and polders and vast mud flats, are the key to this classic short novel by a man who was also a distinguished poet." –The Irish Times

"Storm is a writer for whom most lovers of German literature have a soft spot. He is a master of atmosphere, unique in his ability to endow the details of realistic description with the fragile aura of transience precisely because they are so vividly captured." –A Companion to German Literature

"This fine new translation of Storm's 'Der Schimmelreiter' first published in 1888, when it was immediately recognised as a masterpiece of romantic idealism. Its setting is the eerie coast of North Friesland, vulnerable to frightening storms and under perpetual threat from the sea; its eighteenth-century hero, the dykemaster, builds new and better defenses, but his battle against the forces of nature stands also for another battle, against the bigoted fundamentalism of hostile villagers. In accordance with the genre, of which this is a brilliant example, the plot includes a suitably creepy ghost storm." –Sunday Telegraph

"Translations of the high standard as this one are more than ever in demand." –Mary Garland, editor of The Oxford Companion to German Literature

"This is an excellent...translation." –Independent on Sunday