Ounce Dice Trice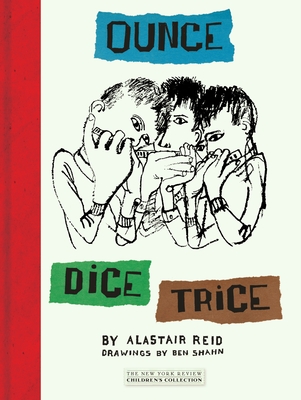 Ounce Dice Trice
New York Review of Books, Hardcover, 9781590173206, 57pp.
Publication Date: September 8, 2009
* Individual store prices may vary.
Buy at Local Store
Enter your zip code below to purchase from an indie close to you.
or
Buy Here
Description
What can words be, or rather, what can t they be? Poet Alastair Reid introduces children and adults to the wondrous waywardness of words in "Ounce Dice Trice," a delicious confection and a wildly unexpected exploration of sound and sense and nonsense that is like nothing else. Reid offers light words (willow, whirr, spinnaker) and heavy words (galoshes, mugwump, crumb), words on the move and odd words, words that read both ways and words that read the wrong way around (rezagrats), along with much else. Accompanied by Ben Shahn's glorious drawings, "Ounce Dice Trice" is a book of endless delights, not to mention the only place where you can find the answer to the question: What is a gongoozler? Well, all I can say is quoz.
About the Author
Poet and translator Alastair Reid lives in New York City.


Praise For Ounce Dice Trice…
"I want every children's book editor and also every primary and middle school teacher and librarian in America to read this book. It is the antidote to plotting, plot-driven, two-line synopsizable, anti-imagination books....[Ounce Dice Trice] can be read cover to cover, back to front, middle to end, upside down, any way you like. "  --Daniel Pinkwater, Weekend Edition Saturday, NPR, 12/12/09

"Ben Shahn's drawings turn Ounce, Dice, Trice, a word-nonsense book by Alastair Reid, into an art book."–Los Angeles Times

"The book, with more than 100 pictures by Ben Shahn, was designed to amuse and the words belong on the borderline where 'the poet and the child meet.'" –The New York Times

"For decades, New Yorker writer Alastair Reid has been collecting words, weird ones. In Ounce, Dice, Trice, the words play tricks on each other and on the reader. Gongoozler. Piddocks. Mumruffin. Reid twists them into rhymes and draws odd connections between them in this book part dictionary, part gonomony receptacle...With black-and-white sketches by painter Ben Shahn, Ounce, Dice, Trice amounts to great fun for the average gongozzler (idle person) of any age." –The Bergen County Record

"There are 57 pages of this delightful nonsense, with equally delightful illustrations. My wife and I love it." –David Halperin

"Alastair Reid is a word magician." –Bill Buford

"Ben Shahn is among the most important American artists of this century." –Library Journal

"Ounce, Dice, Trice, an Alastair Reid book of poems for juveniles, introduces children to the fun of words. Introducing children to words in any form is, to my mind, one of the noblest of endeavors. Alastair himself has had great fun with words, both poetically and prosaically." –Los Angeles Times

"If you like nonsense words with meanings they ought to have then you'll like this book. If you get tired of counting to 10 in an ordinary way, try it ounce, dice, trice, quartz, quince, sago, serpent, oxygen, nitrogen, and denim. The pictures are fine too. An enjoyable book." –Los Angeles Times
Saturday, Dec 12, 2009
Every good book begins with good words. Ounce, Dice, Trice is a book for children that is full of words — magnificent, wonderful words like "frangipani," "dimity," "gloaming" and "nunnery." And don't forget "murdo," "drumjargon" and "chumly." Host Scott Simon speaks with Weekend Edition's ambassador to the world of kiddie literature, Daniel Pinkwater, about this new release of an old book. More at NPR.org