The Journal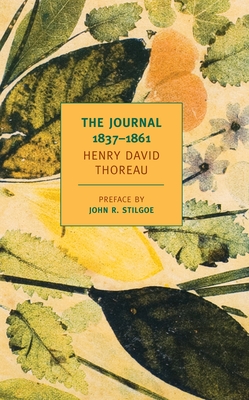 The Journal
1837-1861
New York Review of Books, Paperback, 9781590173213, 667pp.
Publication Date: November 24, 2009
* Individual store prices may vary.
Buy at Local Store
Enter your zip code below to purchase from an indie close to you.
or
Buy Here
Description
Henry David Thoreau's "Journal" was his life's work: the daily practice of writing that accompanied his daily walks, the workshop where he developed his books and essays, and a project in its own right one of the most intensive explorations ever made of the everyday environment, the revolving seasons, and the changing self. It is a treasure trove of some of the finest prose in English and, for those acquainted with it, its prismatic pages exercise a hypnotic fascination. Yet at roughly seven thousand pages, or two million words, it remains Thoreau's least-known work.
This reader's edition, the largest one-volume edition of Thoreau's "Journal" ever published, is the first to capture the scope, rhythms, and variety of the work as a whole. Ranging freely over the world at large, the Journal is no less devoted to the life within. As Thoreau says, It is in vain to write on the seasons unless you have the seasons in you.
About the Author
Henry David Thoreau was an American author, poet, and philosopher, who is best known for his works Waldena treatise about living in concert with the natural worldand Civil Disobedience, in which he espoused the need to morally resist the actions of an unjust state. Thoreau s work heavily reflects the ideologies of the American transcendentalists, and he has long been considered a leading figure in the movement along with Ralph Waldo Emerson, Bronson Alcott, and, at first, Nathaniel Hawthorne (who changed his views later in life). In addition to his writing, which totaled more than twenty volumes, Thoreau was an active abolitionist, and lectured regularly against the Fugitive Slave Law. Thoreau died in 1862, and is buried along with Louisa May Alcott, Ellery Channing, and other notable Americans in Sleepy Hollow Cemetery in Concord, Massachusetts.

Damion Searls is a writer in English and translator from German, French, Dutch, and Norwegian. Searls has translated writers including Ingeborg Bachmann, Thomas Bernhard, Peter Handke, Christa Wolf; his translation of Hans Keilson's "Comedy in a Minor Key"was a New York Times Notable Book of 2010 and National Book Critics Circle Award finalist in Fiction.

John R. Stilgoe is Orchard Professor in the History of Landscape at Harvard University, where he has taught for forty years. He is the author of many books, most recently "Old Fields: Photography, Glamour, and Fantasy Landscape".
Praise For The Journal…
"[Searls's selection] admirably preserves the feel of the 7,000-page original. This lightweight, sturdy edition ... practically begs to be read outside." —Thomas Meaney, Times Literary Supplement

"Writer, editor, and translator Searls selected passages from this vast sea of words to create the largest and most cohesive one-volume reader's edition ever published...This is a superb and uniquely accessible edition of an essential American masterpiece." —Booklist

"It is the unflagging beauty of the writing, day after day, that confirms its greatness among writers' journals." —Alfred Kazin

"Thoreau could lift a fish out of the stream with his hands; he could charm a wild squirrel to nestle in his coat; he could sit so still that the animals went on with their play round him. [In the Journal] we have a chance of getting to know Thoreau as few people are known, even by their friends." —Virginia Woolf

"Reading Thoreau's Journal I discover any idea I've ever had worth its salt."—John Cage