The Jokers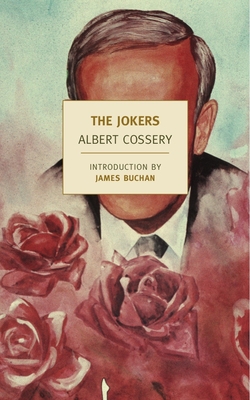 The Jokers
New York Review of Books, Paperback, 9781590173251, 145pp.
Publication Date: July 20, 2010
* Individual store prices may vary.
Not Currently Available for Direct Purchase
or
Shop Local
Enter your zip code below to purchase from an indie close to you.
Description
Who are the jokers?
The jokers are the government, and the biggest joker of all is the governor, a bug-eyed, strutting, rapacious character of unequaled incompetence who presides over the nameless Middle Eastern city where this effervescent comedy by Albert Cossery is set.
The jokers are also the revolutionaries, no less bumbling and no less infatuated with the trappings of power than the government they oppose.
And the jokers are Karim, Omar, Heykal, Urfy, and their friends, free spirits who see the other jokers for the jokers they are and have cooked up a sophisticated and, most important, foolproof plan to enliven public life with a dash of subversive humor.
The joke is on them all.
About the Author
Albert Cossery (1913-2008), "the Voltaire of the Nile," wrote eight books about the life of the common people in his native Egypt and was first published in the 1940s by New Directions. His work is both a celebration and a lament: as he put it, "So much beauty in this world and so few eyes to see it."

Jennifer Sullivan Buchwald-Baerwald is Professor of Physiology Emeritus, UCLA School of Medicine and former Associate Director, UCLA Brain Research Institute. She has published extensively in Science, Nature, Brain Research, Neuroscience Research, Journal of Neurophysiology, Annual Review of Physiology, Experimental Neurology, Journal of Nervous and Mental Disease, American Journal of Physiology, Brain Research Bulletin. Sullivan spent several years in and around New Orleans as a graduate student, an experience that provided background and awareness for writing The Levee. Her fiction was nominated for the Pushcart Prize and won the California Writers' Award in 2010. The Levee is her first novel.

James Buchan is a novelist and critic. He is the author of The Persian Bride, a New York Times Notable Book, as well as Frozen Desire, an examination of money that received the Duff Cooper Prize. He has also won the Whitbread First Novel Award and the Guardian Fiction Prize. Buchan is a contributor to the New York Times Book Review and the New York Observer, and a former foreign correspondent for the Financial Times. He lives in Norfolk, England.
Praise For The Jokers…
"Albert Cossery, who died in 2008 at age 94, ought to be a household name. He's that good: an elegant stylist, an unrelenting ironist, his great subject the futility of ambition 'in a world where everything is false.' ... The Jokers is a small masterpiece…" –David Ulin, The Los Angeles Times

"Cossery's account of finding the space to protest and retain your sense of humor is equal parts funny and vicious." --Jessa Crispin, NPR
"Cossery argues the futility of locking horns with your oppressor. . . . Far more effective—and far more natural—to undermine it by mockery and ridicule, as happens in this book to hilarious effect."
—The Independent
"Cossery's use of irony is one of the most powerful and pity-inducing to be found in any literature East or West, old or new. It is an irony so fierce, an anger so sharply muted by inversion of sarcasm and disgust that it makes the reader's hair stand on end with guilty compassion."
—John Murray
"His caustic satire burned like the desert sun, undermining all forms of authority."
—The Guardian
"A jewel of eccentric humor." —Le Monde