The Cost of Living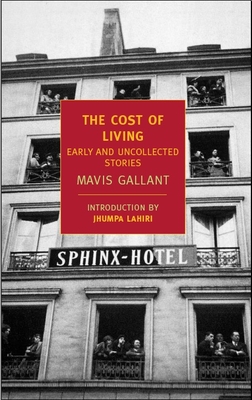 The Cost of Living
Early and Uncollected Stories
New York Review of Books, Paperback, 9781590173275, 368pp.
Publication Date: September 29, 2009
* Individual store prices may vary.
Buy Now
or
Shop Local
Enter your zip code below to purchase from an indie close to you.
Description
A New York Review Books Original
Mavis Gallant is renowned as one of the great short-story writers of our day. This new gathering of long-unavailable or previously uncollected work presents stories from 1951 to 1971 and shows Gallant's progression from precocious virtuosity, to accomplished artistry, to the expansive innovatory spirit that marks her finest work.

"Madeleine's Birthday," the first of Gallant's many stories to be published in The New Yorker, pairs off a disaffected teenager, abandoned by her social-climbing mother, with a complacent middle-aged suburban housewife, in a subtly poignant comedy of miscommunication that reveals both characters to be equally adrift. "The Cost of Living," the extraordinary title story, is about a company of strangers, shipwrecked over a chilly winter in a Parisian hotel and bound to one another by animosity as much as by unexpected love.

Set in Paris, New York, the Riviera, and Montreal and full of scrupulously observed characters ranging from freebooters and malingerers to runaway children and fashion models, Gallant's stories are at once satirical and lyrical, passionate and skeptical, perfectly calibrated and in constant motion, brilliantly capturing the fatal untidiness of life.
About the Author
Born in Montreal in 1922, Mavis Gallant left a career as a leading journalist in that city to move to Paris in 1950 to write.
Since that time she has been publishing stories on a regular basis in "The New Yorker," many of which have been anthologized. Her world-wide reputation has been established by books such as "From the Fifteenth District" and "Home Truths," which won the Governor General's Award in 1982. In that same year she was made an Officer of the Order of Canada, becoming a Companion of the Order in 1993, the year that she published "Across the Bridge" and was the recipient of a special tribute at the Harbourfront International Festival of Authors in Toronto. In 1996, "The Selected Stories of Mavis Gallant" was published to universal acclaim. "Paris Stories," a selection edited by Michael Ondaatje, appeared in 2002, and was followed by the companion volume "Montreal Stories," edited by Russell Banks, in 2004.
Gallant is a Foreign Honorary Member of the American Academy of Arts and Letters, and Fellow of the Royal Society of Literature. She has received several honorary degrees from Canadian universities and remains a much-sought-after public speaker. In 2001 she became the first winner of the Matt Cohen Award, and in 2002 she won the Blue Metropolis International Literary Grand Prix and the Rea Award for the Short Story.
She continues to live in Paris.
"From the Hardcover edition."
JHUMPA LAHIRIis the author of three books, most recently Unaccustomed Earth. Herdebut collection, "Interpreter of Maladies, " won the 2000 Pulitzer Prize for fiction. She is the recipient ofa Guggenheim fellowship and herwork has been translated into twenty-nine languages.
Praise For The Cost of Living…
"Gallant has, over a long career, deftly documented women on the boundaries between childhood and adulthood, between their native home and their adopted home. As such, it's fitting that the stories in The Cost of Living are mostly strays and tales left out of the 1996 volume The Collected Stories of Mavis Gallant, including her first-ever published piece, 'Madeline's Birthday' from 1951. It's about time they've been brought in from the cold and seated snugly on your bedroom nightstand." --Jessa Crispin, NPR's "Books We Like"

"Mavis Gallant's insights into her characters are achieved with breathtaking economy and rightness of detail. She is a terrifyingly good writer."—Margaret Atwood

"[Mavis Gallant's] talent, exercised for many years in Parisian exile, is as versatile and witty as it is somber and empathetic."—John Updike

"Gallant's stories relentlessly ask a few unanswerable and essential questions about our bewildering human condition. We come away from her stories with a keener knowledge of ourselves."—Alberto Manguel

"One of the finest practitioners of the short story in the English language." --The New York Times

"One of the great story writers of our time." --Michael Ondaatje

"The irrefutable master of the short story in English. She is the standout. She is the standard-bearer." --Fran Lebowitz