Everything Flows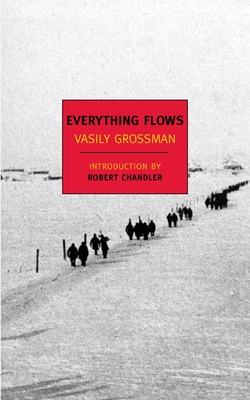 Everything Flows
New York Review of Books, Paperback, 9781590173282, 253pp.
Publication Date: December 1, 2009
* Individual store prices may vary.
Buy at Local Store
Enter your zip code below to purchase from an indie close to you.
or
Buy Here
Description
A New York Review Books Original

Everything Flows is Vasily Grossman's final testament, written after the Soviet authorities suppressed his masterpiece, Life and Fate. The main story is simple: released after thirty years in the Soviet camps, Ivan Grigoryevich must struggle to find a place for himself in an unfamiliar world. But in a novel that seeks to take in the whole tragedy of Soviet history, Ivan's story is only one among many. Thus we also hear about Ivan's cousin, Nikolay, a scientist who never let his conscience interfere with his career, and Pinegin, the informer who got Ivan sent to the camps. Then a brilliant short play interrupts the narrative: a series of informers steps forward, each making excuses for the inexcusable things that he did—inexcusable and yet, the informers plead, in Stalinist Russia understandable, almost unavoidable. And at the core of the book, we find the story of Anna Sergeyevna, Ivan's lover, who tells about her eager involvement as an activist in the Terror famine of 1932–33, which led to the deaths of three to five million Ukrainian peasants. Here Everything Flows attains an unbearable lucidity comparable to the last cantos of Dante's Inferno.
About the Author
Vasily Grossman (1905-1964) was a major Soviet writer. His most important novel is "Life and Fate".

Robert Chandler is the translator of Vasilii Grossman's Life and Fate, and of Andrei Platonov's The Foundation Pit.

Elizabeth Chandler has written picture books, chapter books, middle grade novels, and young adult romances (including the popular Kissed By an Angel trilogy) under a variety of names. As Mary Claire Helldorfer, she lives in Baltimore, MD, and loves stories, cats, baseball, and Bob—not necessarily in that order.
Praise For Everything Flows…
"Vasily Grossman is the Tolstoy of the USSR" --Martin Amis
"After he submitted his masterful World War II novel Life and Fate to a publisher in 1960, the KGB confiscated the manuscript, his notes and even his typewriter (the book was later smuggled out of the country and printed in 1974). But this didn't quiet Grossman, whose indictments of Stalinist Russia were at least as damning as those of George Orwell and Aleksandr Solzhenitsyn. Understandably bitter over the suppression of his work, the author worked on Everything Flows—a shorter, but even more eviscerating, meditation on the monstrous results of the Soviet experiment—until his death from cancer in 1964. This new translation brings his searing vision to light... Fortunately, the KGB couldn't keep Grossman's books under wraps forever. His testament stands as a fitting tribute to the millions of voices that were prematurely silenced."—Drew Toal, Time Out New York
"...a richly-woven narrative of historical events and individual destinies — a masterpiece of pain, moral outrage and gallows humour. Grossman has become recognised not only as one of the great war novelists of all time but also as one of the first and most important of witnesses to the defence of Stalingrad, the fall of Berlin, the consequences of the Holocaust" 
—Business Standard
A "brilliant and courageous novel...readers will find hope in the narrator's uncommon capacity to forgive and accept."–Library Journal
"Few novels confront human suffering on as massive a scale as this one....Grossman's individual by individual portrayal of anguish gives readers a heartrending glimpse of the incomprehensible. " --Publishers Weekly
"Remarkable...it trembles with the vision of freedom." --Irving Howe, The New York Times
"[I]t is as eloquent a memorial to the anonymous little man in the Stalinist state as Dr. Zhivago is to the artistic spirit in post-Czarist Russia and The First Circle to the scientific intelligentsia." --Thomas Lask, The New York Times
"Grossman traces the blame for the terror of the Stalin years back through Lenin, to the roots of the Russian character, to the mystical national soul that Russians have always considered their greatest strength...Grossman put his finger on the crux of the issue as today's Russians see it: What responsibility do they bear for the horrors perpetrated in the course of Russian and Soviet history?" --Los Angeles Times
Friday, Mar 7, 2014
Anthony Marra recommends Everything Flows by Vasily Grossman as a way to understand the events unfolding in Ukraine. More at NPR.org
Friday, Feb 28, 2014
While writer Anthony Marra sees literary links between Ukraine's past and present turmoil, conflict in Kiev and the arrest of the infamous "El Chapo" remind novelist Zachary Lazar of a Mexican author. More at NPR.org