Fortunes of War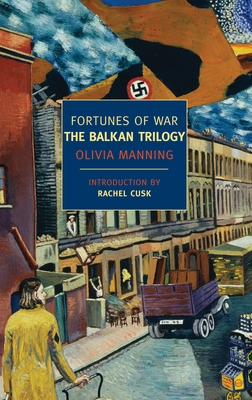 Fortunes of War
The Balkan Trilogy
New York Review of Books, Paperback, 9781590173312, 924pp.
Publication Date: January 19, 2010
* Individual store prices may vary.
Buy at Local Store
Enter your zip code below to purchase from an indie close to you.
or
Buy Here
Description
"The Balkan Trilogy" is the story of a marriage and of a war, a vast, teeming, and complex masterpiece in which Olivia Manning brings the uncertainty and adventure of civilian existence under political and military siege to vibrant life. Manning's focus is not the battlefield but the cafe and kitchen, the bedroom and street, the fabric of the everyday world that has been irrevocably changed by war, yet remains unchanged.
At the heart of the trilogy are newlyweds Guy and Harriet Pringle, who arrive in Bucharest the so-called Paris of the East in the fall of 1939, just weeks after the German invasion of Poland. Guy, an Englishman teaching at the university, is as wantonly gregarious as his wife is introverted, and Harriet is shocked to discover that she must share her adored husband with a wide circle of friends and acquaintances. Other surprises follow: Romania joins the Axis, and before long German soldiers overrun the capital. The Pringles flee south to Greece, part of a group of refugees made up of White Russians, journalists, con artists, and dignitaries. In Athens, however, the couple will face a new challenge of their own, as great in its way as the still-expanding theater of war.
About the Author
Olivia Manning, OBE, was born in Portsmouth, England and spent much of her youth in Ireland. She married just before World War II and went to live in Bucharest with her husband. Her experience there formed the basis of the work that makes up The Balkan Trilogy. As the Germans approached Athens, she and her husband evacuated to Egypt and ended up in Jeruslam where her husband worked at the Palestine Broadcasting Station. They returned to London in 1946 and lived there until her death in 1980.

Rachel Cusk is the author of three memoirsA Life s Work, The Last Supper and Aftermathand seven novelsSaving Agnes, winner of the Whitbread First Novel Award; The Temporary; The Country Life, which won a Somerset Maugham Award; The Lucky Ones; In the Fold; Arlington Park; and The Bradshaw Variations. She was chosen as one of Granta s Best of Young British Novelists 2003. She lives in London.
Praise For Fortunes of War…
One of the "Five Best of World War II Fiction" — Antony Beevor, The Wall Street Journal

"Books not nearly as good are touted as definitive portraits of the war; very little on a best-seller list is more readable. Manning's giant six-volume effort is one of those combinations of soap opera and literature that are so rare you'd think it would meet the conditions of two kinds of audiences: those after what the trade calls 'a good read,' and those who want something more." --Howard Moss, The New York Review of Books

"The Balkan Trilogy: A fantastically tart and readable account of life in eastern Europe at the start of the war. The follow-up Levant Trilogy is just as good, too." --Sarah Waters

"Dramatic, comic and entirely absorbing." —Carmen Callil

"I shall be surprised, and, I must admit, dismayed if the whole work is not recognized as a major achievement in the English novel since the war. Certainly it is an astonishing recreation." --Walter Allen, The New York Times

"The Great Fortune, The Spoilt City, and Friends and Heroes comprise a remarkable impression of traumatic world events as they impinged on the daily lives of (mostly) British permanent or temporary expatriates, encountered...[Manning] writes with blessed economy, evoking the sights and smells of the Middle East, the spring-green deserts and a mosque at dawn, with beautiful precision rather than purple passages...She has been compared with Graham Greene and Anthony Powell. Anthony Burgess, who thinks the two trilogies may prove to be the 'finest fictional record of the war produced by a British writer,' finds in her a kinship with Tolstoy." --Charles Champlin, Los Angeles Times

"Her gallery of personages is huge, her scene painting superb, her pathos controlled, her humour quiet and civilized." --Anthony Burgess

"Miss Manning is one of the very best of our novelists. She has a voice of her own." --Pamela Hansford Johnson, The New York Times

"So glittering is the overall parade...and so entertaining the surface that the trilogy remains excitingly vivid: it amuses, it diverts and it informs'." --Frederick Raphael 

"Neither eye nor ear nor memory has failed the author. She has reproduced, in the atmosphere of wartime Rumania, exactly that miasma compounded of bravado and fear, extravagance and hunger, pretense and anguish, chicanery and stoicism, which hung over all the little, rumor-ridden capitals before their doom."--V. Peterson, The New York Times